I've become quite interested in Thy distillery (pronounced tsuh) on the west coast of Denmark. Their beechwood smoked whisky from Berry Bros' Nordic Casks series was pretty great and I'm always impressed by their openness and attention to detail.
In 2015 two couples (Ellen and Andreas, Marie and Jakob) left Copenhagen and moved to Thy, in order to put into motion the plan of a dedicated distillery. They only use grains from their own farm, including some local heritage varieties. All grains are harvested, malted, mashed and distilled on the Gyrup estate. Their fields have been organically managed for many years and they revive Danish traditions like beechwood smoking. I appreciate the fact that they're not trying to copy Scottish traditions but try to shape their own Nordic style.
A couple of weeks ago, Thy Whisky organized an online tasting, presenting 7 samples: three grain whiskies (rye, spelt, oats… in different combinations), three beechwood smoked malt whiskies and one classic malt whisky matured in a sherry cask.
Thy Whisky No. 21 Spelt-Rye 4 yo (52%, OB 2023, new oak + bourbon casks, 806 btl.)
Nose: very fresh and minty, with juniper and Hojicha tea. Lemon zest and lemon blossom. Gin-like touches. A faint farmy note in the background (something Brora-ish), which is unexpected but nice. Then light vanilla comes forward, as well as some white pepper.
Mouth: a big peppery impression but without any roughness. Then citrusy notes return with a hint of herbal honey, heather and warming vanilla. Spearmint. The virgin oak shines through, with a spicy sweetness and hints of oak shavings. A very subtle ginger / juniper note too.
Finish: sweet and spicy, medium length.
A young but very pure distillate of high quality. It's interesting to have this fresh character standing out, as well as a nice Nordic fingerprint, with none of the overdone woodiness that you sometimes get in start-up distilleries. Out of stock at the Thy webshop.
Thy cask sample 3 yo (58,9%, cask #376 + 408, new oak casks)
Nose: now the wood is much more prominent. There's a sweet fruitiness from the spirit (oranges, fresh plums) but also caramel toffee from the wood. Oak shavings. Ginger and mint in the background.

Mouth: sweet and woody. More toffee, now honey as well. Then sweetened herbal tea, maybe a hint of cough syrup. Still some citrusy freshness. Black peppercorns with brown sugar, as well as hints of cinnamon pastry.
Finish: quite long, with the cinnamon and pepper lingering on.
This was made with 40% heritage wheat (including the ancient emmer variety) alongside 30% malted Odyssey barley, 20% malted rye and 10% malted oats. Well made but for me the oak influence is too big. Combined with the wheaty side this almost feels like an experimental American whiskey. That's fine, I'm just not sure this is the what a Danish distillery should do, especially as they seem to aim for a grain-driven spirit. Score: 81/100
Thy cask sample 3 yo (50,2%, cask #380, apple eiswein cask)
Nose: odd, almost off-putting at first. It took a while to get used to. Sour apples, maybe cider apples and quinces, mixed with buttery oat milk. Calvados but not as sweet. A faint juniper note, something medicinal even. Some aromatic citrus oils too.

Mouth: still weird. Steely hints of bitter apple, getting sweeter after a while. Then grainy notes, subtle herbs and hints of green tea. Not as complex as their other whiskies, this is fairly neutral.
Finish: not that long, with a vague apple sweetness going strong.
Made with oat malts primarily. I'm not a fan of oats in the first place and then the cask adds more challenging flavours. Actually it kinda grew on me, but I don't think I would want a whole bottle of this. Score from a malthead perspective: 72/100
Thy cask sample 'Bøg+Bourbon' 4 yo (54,2%, beechwood smoked malt, bourbon quarter casks + barrels)
Nose: a gentle, velvety type of smoke and the bourbon wood is so crisp that the smoke almost goes by unnoticed. Vanilla and light oak shavings, but also a lot of lemon candy and subtle peaches. Then floral honey and light, fresh herbs.
Mouth: the smoke is slightly more prominent now, but it's still not comparable to peat smoke. More citrus notes, maybe mirabelles and yellow berries. Light hints of pine resin and ginger. Even a salty touch. Warm vanilla pastry in the end.

Finish: medium length, on clean herbs and citrus, with hints of ashes.
The youth is still a little in the way here, but otherwise this is a well made, very clean example of a bourbon cask whisky. The beechwood is subtle – as it should be perhaps. Well done. Score: 84/100
Thy Whisky No. 22 – Bøg-PX 3 yo (50,9%, OB 2023, bourbon cask + PX cask, 1635 btl.)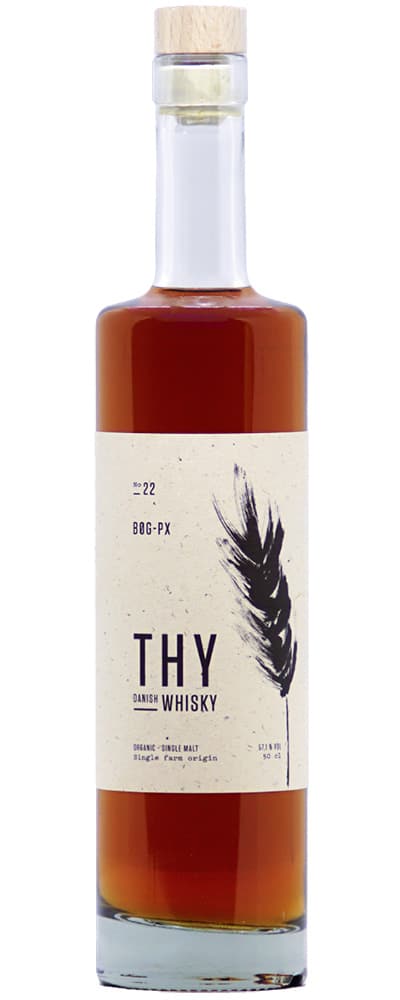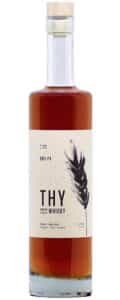 Nose: the same velvety and green smoke as above, albeit slightly more intense. Then the PX chimes in, with a lot of raisin sweetness and brown sugar, toffee. Hints of smoked meat (or fish perhaps) with a sweet soy sauce seasoning. Great balance.
Mouth: more of this sweet toffee and raisin flavour. While the smoke is velvety, it feels thoroughly smoked nonetheless. More barbecued meats, hints of black pepper. Then also chocolate, slightly burnt vanilla pastry and mocha notes. A very light bitter touch in the end, but nothing disturbing.
Finish: long with increasing oak spice, mainly pepper and nutmeg.
Really good already: the smoke is slightly stronger and it blends nicely with the rich Pedro Ximénez notes. This was a slightly preliminary version, but they decided to bottle at a slightly higher ABV, which is now available from the Thy website. Score: 86/100
The next expression has Cara malt, beechwood smoked malt and non-smoked pale malt.
Thy Whisky No. 20 – Maltmod (53,4%, OB 2023, bourbon + Oloroso cask, 1634 btl.)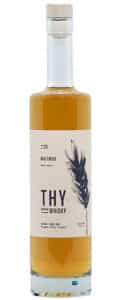 Nose: after the PX this is bright and quite sour, with a firm mineral footprint. It gets citrusy after a while, with lemon juice and orange peels. Always a herbal touch as well. Hints of caramel candy and hay.
Mouth: very herbal now, with a certain dryness that I didn't get in the previous expressions. Mid-palate a big wave of cocoa powder and dark chocolate comes out. Nice. Caramel latte and eclairs. Then echoes of a Belgian-style Dubbel. A bit of Oloroso spice as well, but it's the malt talking. Subtle leathery notes as well as some orangettes.
Finish: quite long, with more orangettes and caramel filled pralines.
An interesting profile, it's a dessert style whisky if you like, a style on its own. A nice innovation from these guys. If they ever develop a core range, this should be the cornerstone that convinces you of the quality. Score: 87/100
The next one is caramel malt and pale malt as well.
Thy Whisky Distillery Edition 3 yo (59,6%, OB 2023, first-fill PX hogshead #292, 250 btl.)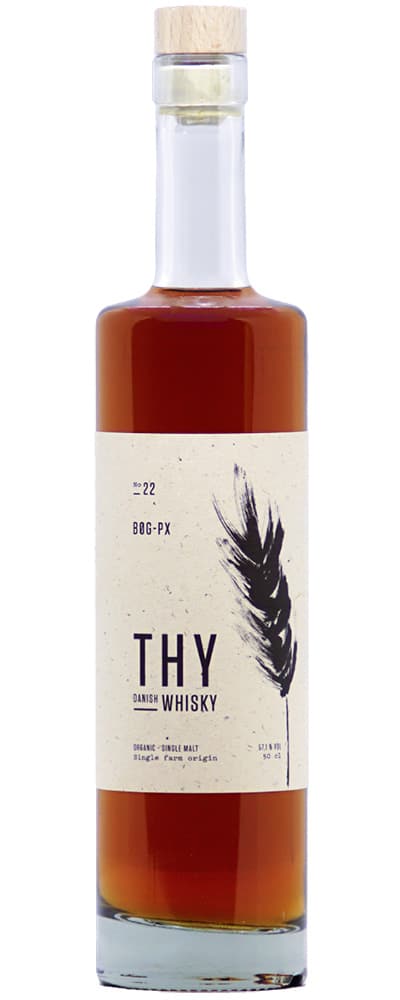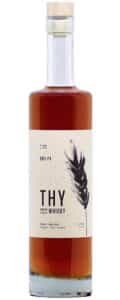 Nose: more caramelized aromas. Toffee and ripe fruits. Still some oranges, mixed with milk chocolate and hazelnut. Somehow the chocolate is lighter here than in the previous expression. Hints of cigar boxes as well, the oak is simply louder. Mocha sweetness and black pepper.
Mouth: spicy notes prevail (nutmeg and pepper) before the chocolate takes over again. Then more of these very specific hints of caramel filled pralines come out, latte and a light hint of lacquered meat.
Finish: long, with hints of espresso, Lion bars and oak spice.
Also really good, but I prefer the purity of the Maltmod. In my opinion PX is a little unnecessary if you have the unique profile of the caramel malt. Sold out. Score: 85/100