Last year Berry Bros. & Rudd launched the first batch of a series called Nordic Casks. It brings together whisky from an emerging region, sourcing casks from distilleries accross Denmark, Finland, Norway and Sweden. As you know this is a very dynamic, thriving whisky scene.
Recently Nordic Casks #2 saw the light. It contains three single malts, one single rye whisky and one blended malt.
The first single malt comes from Thy distillery, Denmark (pronounced tsu, more or less). It is a cask of their Bøg spirit, smoked with beechwood. In this case we're talking about two quarter casks from different vintages, vatted together.
Thy 2017 + 2019 (57,6%, Berry Bros. & Rudd 2022, quarter casks #175 + 258, 235 btl.)
Nose: wood stove aromas in winter, with a warm hint of bacon and barley sweetness. Crusts of vanilla pastry. Soft toffee notes. There's a bright hint of citrus peels in the background. Whiffs of cigar boxes and aniseed. After a while smoked kippers appear.
Mouth: brighter now, with sweet lemons and white pepper, as well as some aniseed, juniper and spicy bread. Still plenty of ashy smoke running through. Some toasted oak in the back. Then lightly coppery notes as well, perhaps due to its young age.
Finish: could be longer but nicely warming, with hints of coffee, barbecue ashes and cinnamon.
The elegant, savoury beech smoke is just great. Add some herbal notes (akin to gin botanicals at times) and you already have a typical Nordic dram. Good whisky with its own style. Available from Abbey Whisky.
Smögen 2012 (60%, Berry Bros. & Rudd 2022, Oloroso hogshead #34, 284 btl.)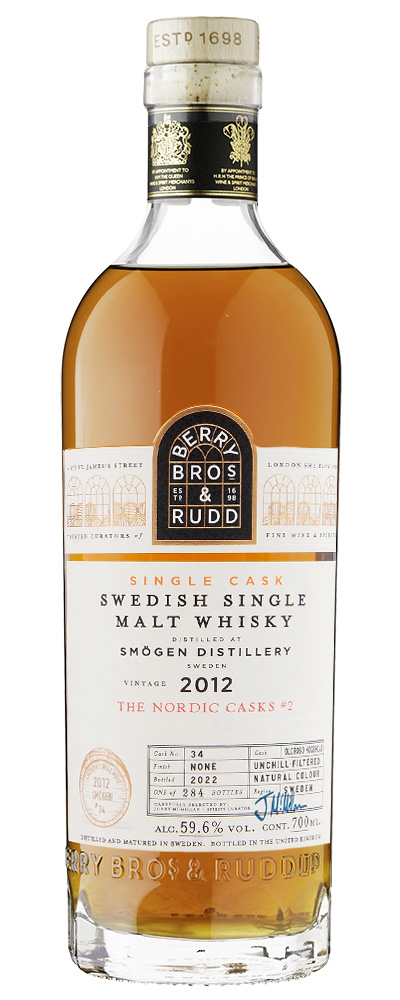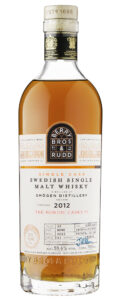 Nose: a deeply sooty smoky nose. These are intertwined by funny hints of Jamaican rum (overripe bananas with diesel) and cured limes. Hints of camphor and mud. Later I get a lot of harbour aromas, be it seaweed, wet wood or tarry ropes. Dried herbs and leathery notes too. The Nordic Islay character.
Mouth: rich wood smoke with tarry notes, black pepper and a nice sherry influence. Toffee and caramelized nuts, with milk chocolate. Black olives, heavy liquorice and salty notes too. Over time a nice farminess builds in the background.
Finish: long, with more liquorice, black olives and this vaguely sweet farmy note underneath.
Quite impressive, mixing Nordic character with farmy Islay elements (Staoisha?) and this funky Jamaican side. I need to try more Smögen. That goes for you too. By the way, a little bit of this cask also went into the Vindöga blend (see below). Available from Abbey Whisky. Score: 90/100
Stauning 2017 Rye Whisky (58,9%, Berry Bros. & Rudd 2022, Moscatel hogshead #6493, 254 btl.)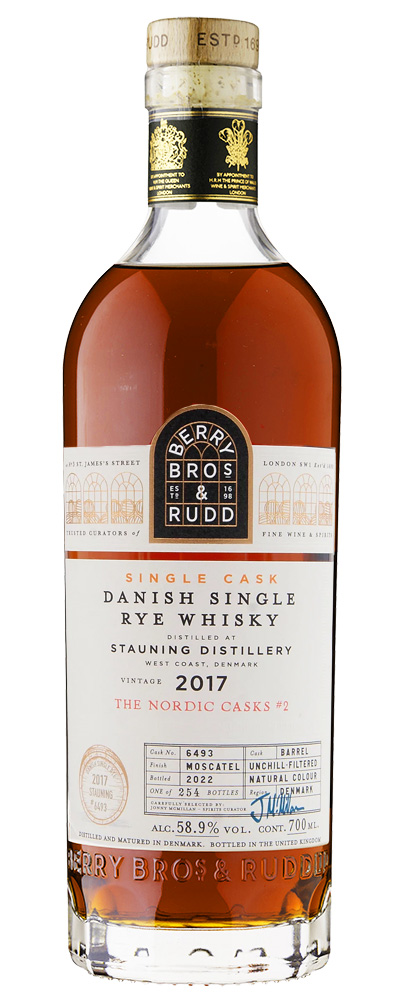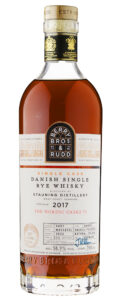 Nose: apricots and apricot jam to the left, rye bread to the right. Hints of baking spice, mint and rosemary. Leathery notes. Herbs and hay as well. A hint of bubblegum in the background, but this is really about the spice.
Mouth: very herbal now. The rye comes out, alongside black pepper, nutmeg and plenty of spicy / herbal notes. Then caraway seeds and aniseed. Perhaps more herbs than spices after all. Almost medicinal. The Moscatel isn't very in-your-face but it brings the necessary toffee sweetness to balance the spice.
Finish: long, a little too hot perhaps, with earthy notes.
I'm not the biggest fan of rye whisky, but this is fresh and accurate, with lots of herbs and a nice splash of Moscatel sweetness. Available from Abbey Whisky. Score: 83/100
Teerenpeli 2013 (59,9%, Berry Bros. & Rudd 2022, Oloroso hogshead #13B, 217 btl.)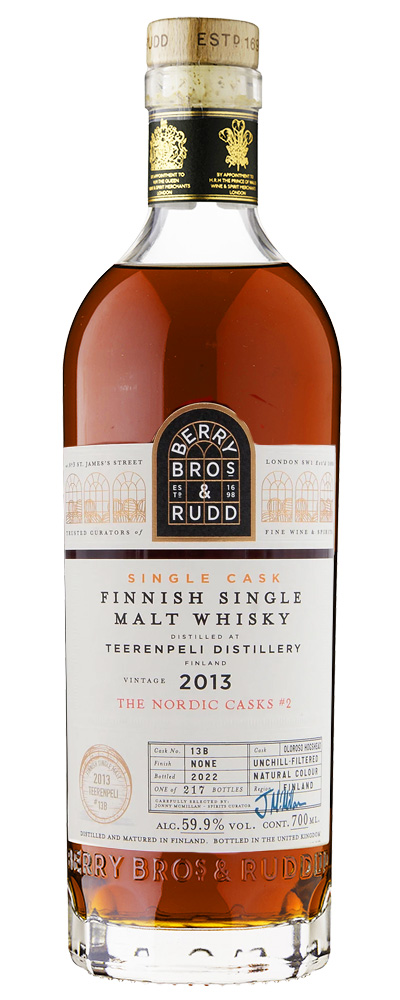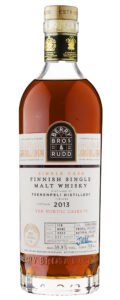 Nose: modern sherry, with red candy apples, molasses, fig jam and dates. Also acacia honey and whiffs of pine needles. Then growing butter caramel, mocha candy and gingerbread. Subtle oak shavings and balsamic notes as well.
Mouth: thick and sweet, like hitting a wall of sherry. Very successful though, with nice flavours of strawberry jam and cassis lemonade, caramelized almonds and raspberry candy. Still a buttery, fatty side. Some gentle spicy notes, staying at a distance, leaving the fruity notes in the spotlight.
Finish: very long, slightly darker with chocolate notes, cinnamon and liquorice while still having blackberries and cassis.
A lovely drop, very richly sherried with a nice fruitiness to lift it. Concentrated, nicely vibrant and easy to recommend to sherryheads. My experiences with this distillery are quickly getting better, surpassing the sherry cask for Kirsch. Available from Abbey Whisky. Score: 89/100
Last but not least, the first Nordic blended malt called Vindöga #1. Vindöga means window so it's a window onto Nordic whisky.
It contains whisky from six distilleries: Fary Lochan (Denmark), Teerenpeli (Finland), Smögen and High Coast (Sweden) along with Mosgaard (Denmark) and Myken (Norway). All of the components have been matured in sherry casks. The recipe was created by Thomas Øhrbom from Whisky Saga.
Vindöga (59%, Berry Bros. & Rudd 2022, blended Nordic malt, sherry cask, 143 btl.)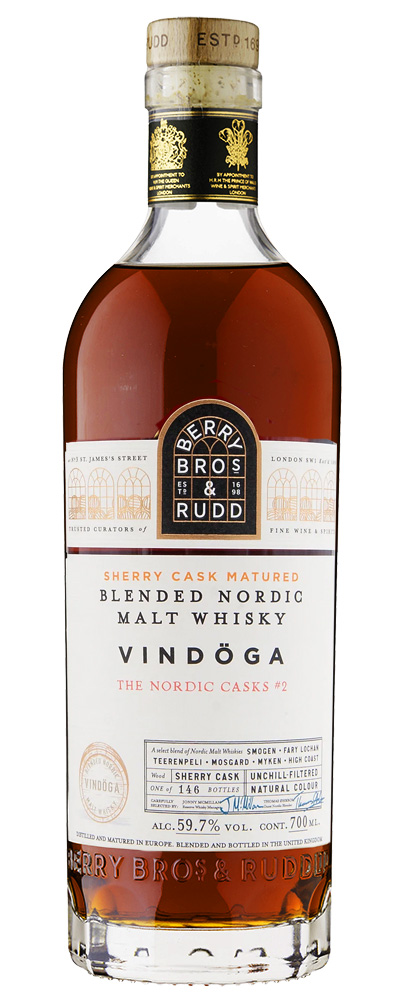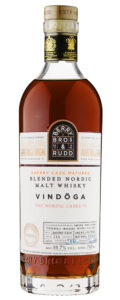 Nose: a slightly rubbery hint at first. Then cedar cigar boxes, teak oil and tobacco. Green herbs, subtle peat and polished leather. Hints of maple syrup, black cherries, fatty meat, herbal extracts and chocolate in the background. A great autumnal, fairly dry nose.
Mouth: the wood is taking center stage at first, with sandalwood and cedar alongside dark caramelized notes and a hint of varnish. Sweet herbs, toffee and chocolate. Later dried fruits flavours set in, but without the sweetness. Liquorice and touches of smoky ash.
Finish: dryness sets in now, with herbal tea, liquorice and clove. Still this encompassing woody warmth.
Ingvar Ronde called this a comfort whisky similar to comfort food. Well said. Quite a dry whisky but an excellent ensemble. This is a perfect choice for wintertime, next to a cosy fireplace. Available from Abbey Whisky. Score: 88/100