Buds & Barrels is the label started by Tom Haseldonckx, a Belgian whisky enthusiast. He organizes tastings, started a shop and has a nice track record of independent bottlings already.
We're looking at five of his recent releases. Some of them are entirely under the Buds & Barrels label, others are co-bottlings with Klubb23 (a whisky club which used to be called BYOB-C).
Single Speyside Malt 12 yo 2009 (57,5%, Buds & Barrels 'Sticky Label' 2022, hogshead #174, 142 btl.)
Nose: orchard fruits like stewed apples and pears, maybe yellow plums as well. Fresh doughy bread and hints of shortbread. A bit of cinnamon. Not hugely exciting so far, showing a vegetal touch that also takes away the sparkle in my opinion.
Mouth: full-bodied, still on white and yellow stone fruits, with a pleasant sweetness and roundness. Creamy texture, but mid-palate it gets more spicy. Then some white pepper and toffee. Subtle leafy sherry notes here as well.
Finish: medium, warming, with some bittersweet herbal notes alongside lingering fruity notes.
The sweet fruity core in this whisky is very attractive, but the sherry influence brings it down a little in my opinion. Reminds me of a modern Macallan. Certainly a nice daily dram, still available from Passion for Whisky for instance.
Glentauchers 13 yo 2009 (53,7%, Buds & Barrels 'Sticky Label' 2022, refill sherry butt, 146 btl.)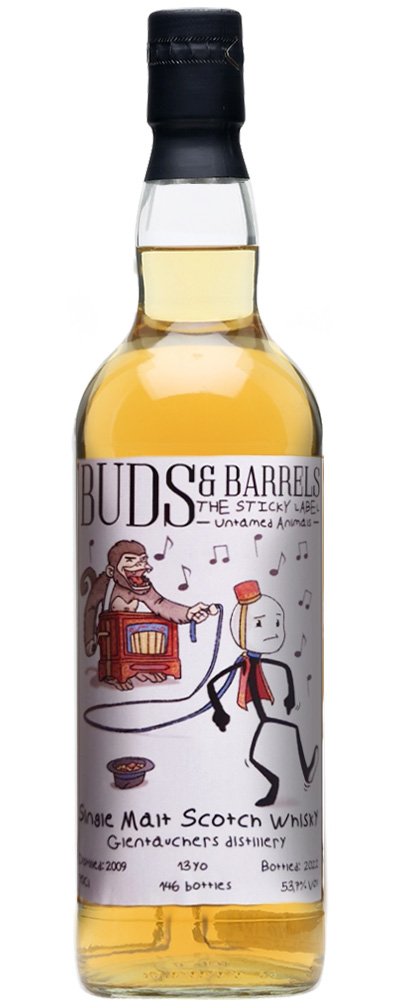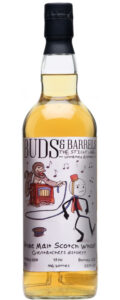 Nose: starts a little vegetal and nutty with a hint of baking butter in the distance. Slightly bulky and very bready, with plenty of yeasty notes – this needs time to open up. Over time it picks up freshness, but little fruits unfortunately. Some earthy notes and fallen leaves. Yellow apples and banana peels in the background.
Mouth: still this autumnal profile on hazelnuts, apple peelings and baking spice. Mild nutmeg. After a while more fruity notes appear, like stewed pears and tangerines. Growing hints of honey and cocoa. Later also pecan pie, hints of boozy sultanas, candied orange and light liquorice. A bittersweet edge in the end.
Finish: medium, on apples, drying hints of walnuts and chili pepper.
Though not quite my style, this is a solid spirit in a relatively gentle sherry cask with leafy notes. It needs time but opens up reasonably well. That said, the price is considerably higher than similar casks from other bottlers. Available from Buds & Barrels direct. Score: 82/100
M&H 3 yo 2019 (67,5%, Buds & Barrels 'Sticky Label' 2022, ex-rye cask #1350, 124 btl.)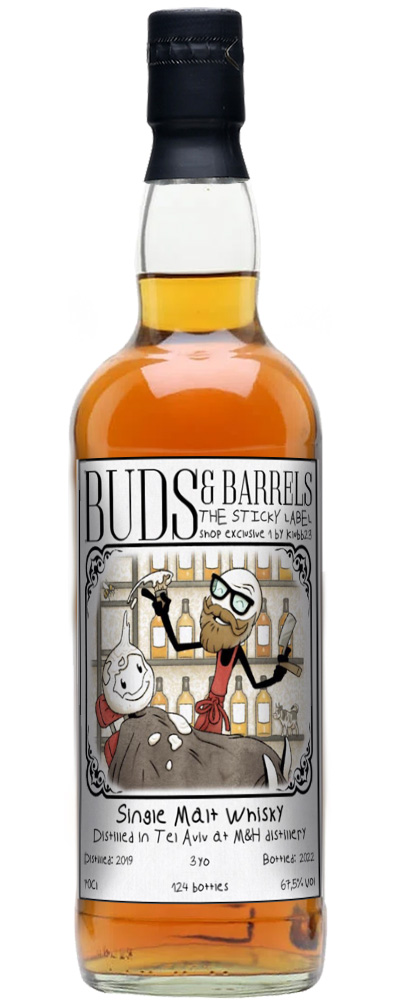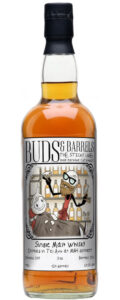 Nose: clean and fresh, with some minerals and gravel dust up front, followed by hints of honey and yellow fruits (peach, greengage, mango). Soft vanilla, maybe a whiff of coconut. Then there's a rye note, like spiced bread.
Mouth: hot, with a bright fruitiness again, followed by mint and wood spice (white pepper, ginger). It gets a little green and leafy in the middle, with some newish wood and sawdust adding dryness. Then panettone, coconut and some grassy notes. Darker caramelized nuts in the background.
Finish: medium, now entirely on the grassy and spicy notes.
While the rye cask adds a dose of spice, I'm mostly happy to see a fairly neutral Milk & Honey for a change (after Dead Sea, ex-Islay or Triple Cask expressions). One of the nicer ones I've had so far, good selection work. Available from Buds & Barrels. Score: 84/100
Bunnahabhain 12 yo 2009 (50,3%, Klubb23 for Buds & Barrels 'Histoire d'Alixe' 2021, sherry cask, 80 btl.)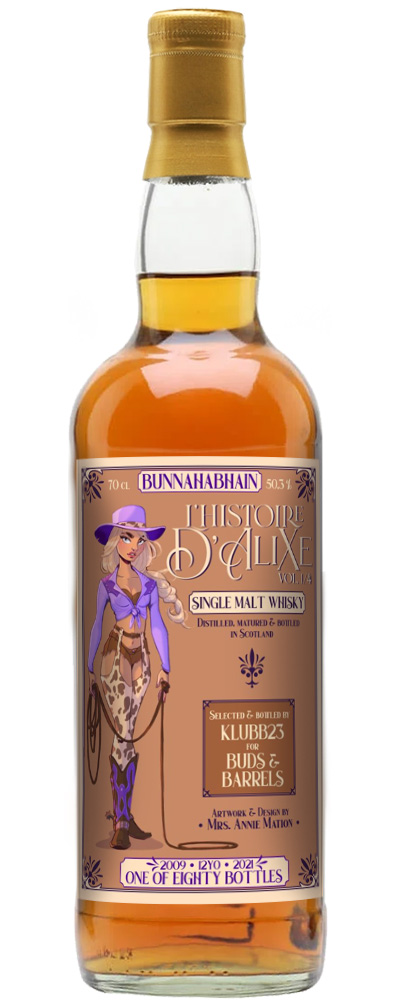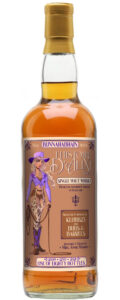 Nose: quite a buttery sherry cask, with something of candlewax too. Good start. Then plums, toffee, raisins and almond paste. Hints of apple pie (crust), light cinnamon syrup and subtle pipe tobacco. Whiffs of roasted chestnuts and herbs in the background. Really good.
Mouth: classic nutty notes mixed with toffee, raisins and dates. Quite creamy and sweet, showing hints of milk chocolate and faint vanilla. Latte with cinnamon sprinkles. Hints of black peppercorns, some oak and tobacco in the background.
Finish: rather long, with chocolate and dried fruits staying strong.
This is a rather sweet, rounded sherry cask, making it dangerously drinkable. We have a winner. Still available from Buds & Barrels direct. Score: 88/100
Caol Ila 11 yo 2010 (59,9%, Buds & Barrels 'Sticky Label', 143 btl.)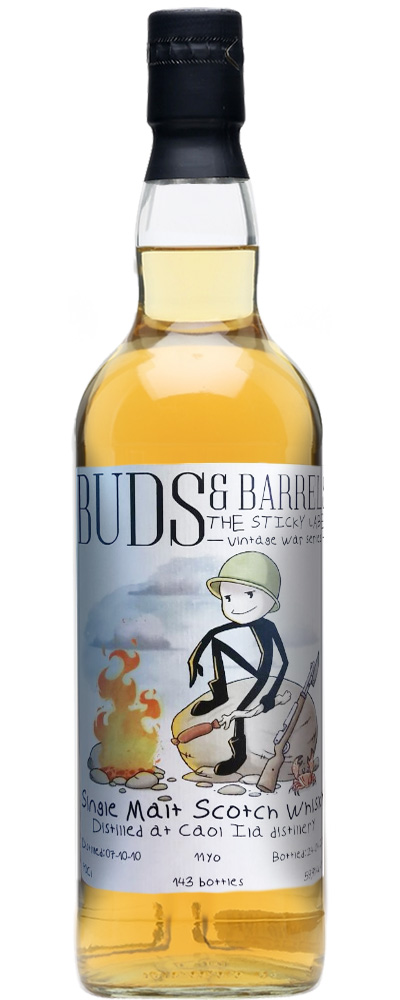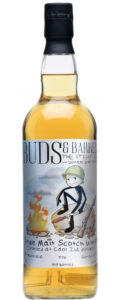 Nose: classic bandages with ashes. Also a hint of young Comté cheese, which makes it a bit more dirty. Some porridge and broken branches. Seawater, crabs and clams. Also vanilla and fisher's nets.
Mouth: more intense now, with a clear medicinal hint (mercurochrome and TCP – did you know Pfizer sold this to a Belgian company "for strategic reasons"?), hints of sweet rubber, brine, liquorice and smoke. Green peppercorns and turmeric. Then herbal notes as well, following by honey and something in between chocolate and tar.
Finish: rather long, with sweet smoky notes and brine.
Caol Ila can be crystal clean, but not this one. Whether on the nose or on the palate, it is the equivalent of a bulky and rude fisherman. And it works. This too is still available from Passion for Whisky. Score: 87/100