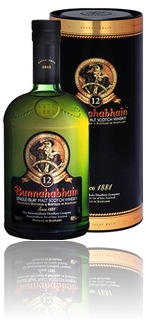 Probably Islay's least appreciated distillery? An outsider anyway, with less of the typical Islay characteristics. You can still detect the sea though.
Bunnahabhain 12y (40%, OB +/- 2008)
Fresh nose. Honey and ginger. Fruity with hints of dry sherry. Really mild, the smoke is only noticeable in the distance and peat is virtually absent.

Mouth: mellow and really sweet. Just a tad smokey. Weak attack (it seems over-diluted) but it gets more powerful after a few seconds. More smoke and coffee in the aftertaste. A tiny bit of peat as well (or was that just imagination?).
Not bad actually. Nothing special either. Around € 30.
Score: 78/100.