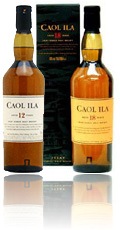 Two classics. I bought them in a Classic Malts Islay Pack (5x 20cl) so I decided to try them head to head.
Caol Ila 12y (43%, OB)
Very clean nose, not very complex but nice anyway. Smoke, peat, motor oil and fresh hints of apple, lemon and grass. Overall rather salty (oysters), you can taste the sea. Very oily, grassy taste in which the slightly sweet smoke only breaks through towards the end. As if the compact taste cannot fully express itself. Powerful, long finish with notes of pepper, barbecue and peat.
Score: 83/100.
Caol Ila 18y (43%, OB)
Softer nose, less salty and less smoky. Instead sweeter notes of flowers, apricot and marzipan. More grass as well.

Mouth: development of vanilla, peat, some smoke and a bit more salt than on the nose.

Finish: coffee with liquorice and that salty touch again.
Score: ook 83/100.
I can't really say I have a favourite. The 12y is cleaner, with a powerful (after)taste. The 18y is more balanced, has a broader range of flavours and has more body.