The Jura Paps 'Beinn Shiantaidh' was finished in Barolo wine casks. The name of this peak is derived from local rumours that it hides the remains of the Lords of the Isles. Barolo is an Italian wine, one of many to claim the title "Wine of the Kings". It is produced from the Nebbiolo grape and is known for its characteristic aromas of tar and roses.
Jura Paps 'Sacred Mountain'
(46%, OB 2009, Barolo finish, 1366 btl.)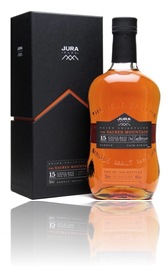 Nose: fragrant and fruity. You certainly notice the grapes but they're well integrated. Notes of red berries, tangerine and oranges. Pomegranate. Lots of floral notes as well: rose water, honeysuckle, some lavender. Really elegant.

Mouth: sweet. Slightly more wood influence now, and caramel (natural I guess). Toffee, still some berries and oranges covered in chocolate.

Finish: sweet with some wood but still nicely balanced. Not too long though.
I like the nose very much. The typical Barolo aroma of rose petals works very well. Around € 100 which is too expensive though.
Score: 82/100