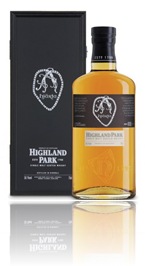 Highland Park announced a new 12 years old bottling named Hjarta, which is now available at the distillery and through their website (possibly in Swedish stores as well, later on).
It is bottled at cask strength (58,1%), limited to 3924 bottles and costs £ 65.
Such a shame that the online shop of Highland Park doesn't ship outside of the UK by the way. Why not? Laphroaig can do it, and I'm sure they're making a good business! 
These are the distillery tasting notes:
Nose: glorious combination of spice and heather, caramelised pineapple and fresh lemon peel with delicate smoke.

Mouth: silky vanilla, hints of coconut. Heather peat smokiness.

Finish: long gentle, smokey finish.
ps/ The announced Highland Park 50 yo turns out to be a 1968 vintage. A 1964 vintage is planned as well. I haven't decided yet whether I'm going to buy one of these or a new car…