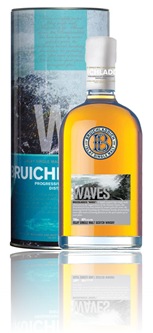 Bruichladdich Waves is part of the series Waves / Rocks / Peat. Waves is moderately peated (15 ppm) and ACE'd in Malvoisie madeira casks, after being matured in ex-bourbon wood.
Bruichladdich Waves (46%, OB 2008)
Nose: soaked raisins and vanilla. A little more peat than I expected. Some maritime / grassy notes. A fruity, sweet edge coming from the madeira wine.

Mouth: malty start with quite a lot of spices. Another wave of vanilla. Sweet liquorice in the background, and something slightly minty.

Finish: medium-long on mellow peat, spices and berries.
A fresh, fruity and easy Bruichladdich. Kind of a summer Islay malt.
Score: 80/100