This August, four new GlenDronach releases will see the light of day. They've all received an additional finish in different types of casks, similar to what has been done at BenRiach over the last six years. The focus of GlenDronach will always be on sherry maturation though.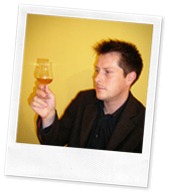 These are the wood finishes:
GlenDronach 14 years Sauternes
GlenDronach 14 years Virgin Oak
GlenDronach 15 years Moscatel
GlenDronach 20 years Tawny Port
The Tawny Port and Moscatel versions were matured in European oak sherry casks before their 18 month finish, the other two were bourbon matured (American oak).
Although they were available at the Wild West Whisky Fest, I waited until their charming sales rep James Cowan presented them in a tasting at TastToe.
Please note that we've tasted samples at cask strength.
I've manually tried to dilute them to bottling strength (46%).
GlenDronach 14 yo Sauternes (46%, OB 2010)
Nose: typical Sauternes influence: figs and melon with a buttery touch. Also a distinct hint of noble rot (botrytis) and flour. Apples with cinnamon. Honeysuckle.

Mouth: sweet and honeyed with lots of barley sugar. Hints of vanilla and white chocolate.

Finish: sweet, creamy and spicy.
This shares a lot of qualities with BenRiach 16yo Sauternes and should be a interesting alternative for Glenmorangie Nectar d'Or. Around € 50.
Score: 83/100
GlenDronach 14 yo Virgin Oak (46%, OB 2010)
Nose: this has striking hints of freshly sawn plywood. You know, the edge of the wood that is slightly burnt by the saw blade. It's toasted, quite dry, with lots of vanilla and faint hints of glue. Nougat. Green banana. Actually quite pleasant.

Mouth: spicy with hints of vanilla biscuits. Roasted peanuts. Nutmeg. Freshly sawn wood again.

Finish: medium length and dry.
A peculiar profile with obvious woody notes. Not as good as the BenRiach Virgin Oak releases, but a nice introduction to the style. Around € 50.
Score: 81/100
GlenDronach 15 yo Moscatel (46%, OB 2010)
This sample was remarkably hazy. Nose: rather citric. Fruity but in a vibrant, slightly sourish way. Think of rhubarb. Stewed fruits. Apple compote. Yellow raisins. Apple crumble with whipped cream. Old roses. 

Mouth: more or less the same combo of garden fruits and brown sugar. Cinnamon. Marmalade. Some tangerine and lots of toffee.

Finish: grows more woody, malty and spicy. Nice evolution.
Well made, sweet, fruity and very zippy. Around € 55.
Score: 85/100
GlenDronach 20 yo Tawny Port (46%, OB 2010)
Nose: much closer to the original GlenDronach style. Slightly vegetal sherry with mixed spices. Some honey. Blackcurrants. A light hint of smoke?

Mouth: rich, with darker port notes but a nice acidity of sour cherries as well. Sultanas. Chocolate. Toffee. Slightly herbal towards the end.

Finish: long, herbal and spicy.
This wood finish is a little closer to the common sherry releases with the port adding a deep fruitiness. Around € 80.
Score: 83/100
As a general remark, all of the wood finishes were pretty well made. None of them were too winey or cloying (none of them were exceptional either). GlenDronach has a kick start for these finishes thanks to the BenRiach experience.
Also in the line-up yesterday were the regular GlenDronach 15yo and 18yo, and the recent GlenDronach Grandeur which replaces the old 33 years old.
It's interesting to note that the 15yo 'Revival' was a new batch which seemed less sulphury and less dirty than how I remember the first batch, with a bit more fresh fruits. I think they've done some nice tweaking.
On the other hand I've always preferred the 18yo 'Allardice' and this is still the case. It's fresher, polished and more fragrant, with lovely raspberry and hints of tobacco. I need to review this in depth one day.
GlenDronach Grandeur was the winner of the evening according to the tasting public. I agree. For me, the 18yo came in second and the Moscatel was my favourite of the finishes. Most people preferred the Port finish though.