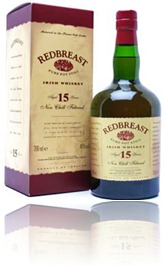 In December 2009 a new batch of the acclaimed Redbreast 15 Years old was launched. Four years earlier, the first edition was bottled to celebrate the 50th Anniversary of La Maison du Whisky.
The new release caused a lot of joy (and high expectations) among the fans of Irish whiskey. This inspired me to do a direct comparison between the old and the new edition. The 2009 release is already available from European retailers and the US will get it towards the end of the year.
I've already reviewed its younger brother, the Redbreast 12 Years at 40%.
Redbreast 15 yo (46%, OB 2005)
Nose: very crisp grapefruit with sweeter notes of peach and honey. Fresh and playful. Whiffs of cut grass. Vanilla and a pinch of cinnamon. Coconut and pineapple. Papaya. A slight waxiness. Very Irish.

Mouth: gentle and accessible. Again very much on grapefruit, growing spicier with hints of caramel. Some banana and citrus. A bit floral as well. Not the most complex but certainly very sippable.

Finish: medium length. Delicate fruits with vanilla and hints of cocoa.
Score: 86/100
Redbreast 15 yo (46%, OB 2009)
Nose: starts in a flatter way, the fresh grapefruit and tropical fruitiness of the 2005 edition is almost gone. More cereals, more dust, more toffee. Camomile? Quite rubbery as well. Hints of nougat. After a while, fruit confit comes through, but very restrained.

Mouth: basically the same differences: more spices (gingerbread, cardamom), less fruit (some bramble maybe). The stunning clarity of the 2005 release doesn't repeat itself in this 2009 version. More green, vegetal notes.

Finish: medium length with hints of gooseberry and hints of vanilla.
Score: 82/100
One thing I've learned is that the original Redbreast 15yo is a perfect example of a fruity and accesible Irish whiskey. The new 15yo – although still enjoyable – fails to live up to the standard set by the previous edition. Around € 65.
Redbreast 15yo (2005)

– tropical fruitiness
– fresh and delicate
– stunning clarity
Redbreast 15yo (2009)

– restrained ripe fruits
– less fresh, slightly dusty
– seems older