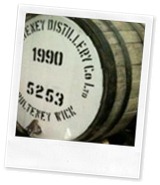 Old Pulteney is produced in the northernmost distillery on the mainland of Scotland. As a former herring port, the town of Wick is located by the sea and this affects the whisky of the Pulteney distillery.
This is an ex-bourbon single cask (brought in from Laphroaig distillery) that can only be acquired by hand-filling your bottle at the distillery. I've heard it's still available. The cask was filled on 30/10/1990 so it will soon be a 20 year-old.
Old Pulteney 19 yo 1990 (57,4%, OB 2010,
cask #5253, distillery only)
Nose: an elegant combination of maritime notes (sea air, salt flakes, wet beach) and honeyed citrus. It balances between dry aromas (manzanilla style) and a sweet, lovely fruitiness with hints of coconut. I also get some vanilla cake and whiffs of freshly sawn wood. A great combination really. Little or no signs of peat.

Mouth: powerful attack, very dry and a little earthy now with notes of herbal tea. Quite some spicy notes (ginger, liquorice). A minimal fruity side (coconut and honey). Quite bitter. Definitely hints of peat from the cask now. Water rounds it off and makes it sweeter.

Finish: dry and herbal with a salty edge. Medium long.
A dry and maritime malt – recommended if you like Manzanilla sherry, I'd say. Not very complex but it harmonizes nicely and has plenty of character. Around € 90.
Score: 86/100
ps/ Not really whisky-related, just sponsored by Old Pulteney "The genuine maritime malt": the Row to the Pole expedition.