For their 17 and 21 years old expressions, Old Pulteney uses a mixture of
ex-bourbon and ex-sherry casks. For the 17 this is mostly oloroso and PX sherry (European oak), while the Old Pulteney 21 years relies mostly on the drier, sharper fino sherry (American oak). The amount of sherry casks versus bourbon is around one third.
Old Pulteney 21 yo (46%, OB 2010)
Nose: on a first level, quite spicy (ginger, mint) while showing the coastal character of the distillery. On a second approach, it turns out to be more complex than younger expressions, with notes of cereal bars, some vanilla, leather, a little wax and faint phenols. Not exactly fruity, but there's plenty of nice apple notes.

Mouth: sweet start but again not a fruity sweetness – more like toffee and honey. The centre is full of malty flavours. Turning to dry flavours, spices and a little salt. Some ginger and orange peel.

Finish: long and warming, with malt, pepper and smooth oak.
All the typical Old Pulteney elements are here, but they're muted by the age. The emphasis is on the spices and sweet malt which makes me prefer the younger versions. Around € 110.
Score: 85/100
Update 23/10/2011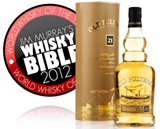 This Old Pulteney 21yo has just won the World Whisky of the Year award in the 2012 edition of Jim Murray's Whisky Bible. Do I agree with his record-equaling 97.5 points? I'm afraid not. Although it's definitely a fine whisky, and although Old Pulteney is taking big steps forward in terms of recognition, I've had better drams this year.