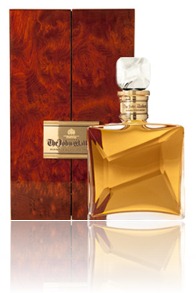 To mark the start of a new decade, the House of Walker celebrates the life of its founder with the launch of The John Walker, a special version of the Blue label blend.
It contains malt and grain whiskies from 9 casks, with the intention to recreate the authentic flavours of a 19th Century blend in John Walker's original style. The whisky has been taken from a range of distilleries, some of which are now closed.
A Baccarat crystal decanter and a 24 carat Gold plated neck underscore the exclusivity. Retail price: £ 2000. Sold by Harrods.