30 Nov: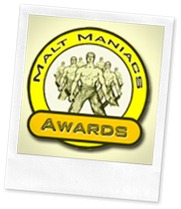 As you probably know, we can expect the results of this year's Malt Maniacs Awards any moment now.
There are 7 gold, 64 silver and almost a hundred bronze medals. The gold medals are 3 Japanese whiskies (well well), 3 old Speysiders and one old Islay malt. We'll discuss it further as soon as we get the votes from the jury!
Some personal guesses: one of the BenRiach 1976's, the Karuizawa 1972 and a couple of the Malts of Scotland and Whisky Agency releases.
1 Dec update: indeed, the Karuizawa 1972 did receive the Non-Plus-Ultra Award with the BenRiach 1976 cask 3558 getting the Best Natural Cask Award. Too bad I forgot to place my bets with the bookmakers… The overall winner is the Glen Grant 36yo 1972 (Duncan Taylor for TWF) which received 91/100 and overtook many malts that are a lot more expensive. 
Other medals that we really support: Gold for the Macallan 1970 Speymalt, Silver for Ardbeg Corryvreckan, Amrut Fusion, Glengoyne 1973 by Malts of Scotland, Port Ellen PE1 (review coming soon), Bowmore Tempest and Lochside 1981 for LMdW among (many many) others. The complete score card is here, the list of award winners is here.
What should we conclude from this year's results?
Six out of seven Gold medals are won by (heavy) sherry bottlings
Few remarkable scores for peated whisky (except for the awards in strictly peated categories of course – is this separate treatment still relevant by the way? Why is sherry not placed in specific categories?). Also, it should be noted that the best Islay releases are from independent bottlers
Japanese distilleries (Karuizawa, Yoichi, Hakushu) and other countries (India's Amrut and even France's Glan Ar Mor) are responsable for a lot of high scores
La Maison du Whisky is doing a great job selecting casks (3 Gold medals, 6 Silver and 3 Bronze)