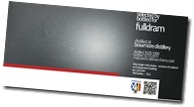 A couple of weeks ago, members of the Fulldram Whisky Club asked me if I was interested in designing a label for their new bottling, the first one released under their own name. Of course I was looking forward to combine two of my major passions! The result is a minimal design with fairly uncommon proportions.
I've just picked up my own bottles of this 12 years old Bowmore 1999 bottled by Fulldram and drawn from an oloroso cask so I'm quite curious to find out how it tastes.
Bowmore 12 yo 1999 (57,6%, Fulldram 2011, oloroso sherry cask, 190 btl.)
Nose: immediately smoky (charcoal) and coastal (seaweed, tarry ropes). Not really a sherry bomb but it does open up nicely with sweeter notes of apples, yellow plums and apricots. Also a wave of yellow raisins and natural caramel. Water even brings out some hints of overripe mango. Some wet hay and chocolate. Strong but beautifully balanced and mouth-watering.

Mouth: very powerful with lots of peat, more than we've come to expect from Bowmore recently. Strong liquorice / menthol notes (Fisherman's friend). It takes a while before the hotness fades away and sweeter background notes come forward. Raisins again, hints of berries. Anise. Water makes it a little more rounded, but it stays bold and peaty.

Finish: long and coastal, with liquorice and a lingering sweetness.
A good Bowmore which combines powerful Islay flavours with sweeter aromas. I would have liked a tad more roundness on the palate – it's very peaty so I think it could resist a little more sherry, but given the price (€ 60 for members) it offers very good value for money. If you're not in the Fulldram whisky club, your best shot at getting it would be QV.ID.
Score: 87/100