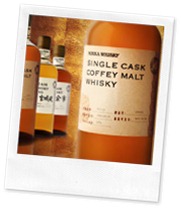 La Maison du Whisky is now selling the latest single casks by Nikka. There's a Coffey Malt 1998 and Coffey Grain 1997, a heavily peated Yoichi 1991 and this Miyagikyo 1988, all presented in a wooden box.
I suppose all these single casks will be quite limited.
Miyagikyo 23 yo 1988
(57%, OB 2011, cask #92414)
Nose: exotic fruits (ripe pineapple, banana) and mirabelles come out first, together with cigar boxes. Then a lot of vanilla, sawdust and beeswax. Hints of eucalyptus and white pepper. Lusciously warm.

Mouth: punchy with a fine layer of oak. Still quite creamy and fruity at first (blackcurrant, apricot, plums, hints of Turkish delight) but quickly developing on spices (vanilla, pepper, light ginger). A slightly sharp peatiness as well. Light grassy / leathery notes in the end.

Finish: long, spicy with vanilla and light peat. Again these notes of oak shavings.
A very fine Japanese malt, with traces of peat and some very prominent new oak notes. Exclusively available from La Maison du Whisky but I've noticed a few bottles are on their way to Holland as well. Around € 145.
Score: 88/100