Here's our comparison cask, a Longmorn 1976 bottled by Malts of Scotland. While yesterday's TWA Longmorn 1976 is practically sold out, this MoS version has just started to appear in stores.
Longmorn 34yo 1976 (51,5%, Malts of Scotland 2011,
bourbon hogshead #5892, 132 btl.)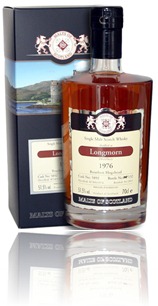 Nose: while it shares a lot of elements with the Whisky Agency bottling, this one shows much more vanilla and pastry notes. You could say the TWA version is more fresh and citric while this one is warmer. A little more tropical as well (ripe mango). Gooseberries. Interesting that both have a different character while they also share common things: a little mint, a little polished oak, a few spices… Less hints of dried grass in this one I would say. Water highlights the vanilla. Both very high quality, but personally I prefer the warmer version.

Mouth: again different, with a more bourbonny character which means more wood varnish, more mint and cinnamon. A little eucalyptus again. Hints of vanilla fudge. Herbal tea in the end.

Finish: long, drier than the TWA Longmorn. Otherwise quite similar, with mint and grapefruit.
This would be a difficult choice. I prefer the nose of this Malts of Scotland release, but on the palate it gets rather bourbonny. It's quite unique and I personally don't mind but I guess that's not the case for everyone. It's somewhat drier as well. Anyway no need to force a choice, both are high quality and have the same price. Around € 180.
Score: 91/100