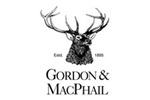 After the Speymalt Macallan 1970 cask #8326 that won a 2009 Malt Maniacs Award, this sibling Macallan 1970 cask #10031 won a Gold Medal as well at the 2010 MM Awards (for Best Sherry cask).
A 39 years old Macallan bottled by Gordon & MacPhail for La Maison du Whisky. Here we go!
Macallan 'Speymalt' 1970 (46%, Gordon & MacPhail for LMdW 2010, first fill sherry hogshead #10031)
Nose: (old) Macallan + sherry = magical richness.  Apricot tartlets, prunes and dates. Some fresh red fruits. Mint, cinnamon and hints of sweet ginger. Some heather and fir-tree honey. Dusty books in the background – lovely.

Mouth: vivid, with plenty of dry spices (cloves, cardamom). While initially rather rounded, it quickly becomes leathery and a lot oakier. Blackberry liqueur. Some resinous notes. Walnuts and liquorice. Roasted coffee. Very rich.

Finish: medium length (only), with forest fruit, resin and spices.
In line with last year's excellent cask although maybe a tad less sparkling. Not cheap, but acceptable for this age: around € 210. Now sold out.
Score: 90/100