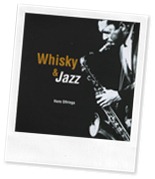 This Springbank 14yo was bottled six months ago for the release of Whisky & Jazz (a book written by Hans Offringa) which links jazz musicians to whiskies. It was matured in a cream sherry cask (usually a low-quality mixture of oloroso and PX sherry) and bottled at cask strength.
Another book 'Bourbon & blues' will be released soon and again it comes with a Springbank release, this time a 1998 matured in ex-bourbon wood (of course).
Springbank 14 yo 'Jazz Edition'
(56%, OB 2010, 600 btl.)
Nose: the first few minutes it's hard to get over the big matchstick notes, gunpowder and traces of rubber. Nothing dirty in my opinion but worth noting – it's a bit too prominent maybe. Then some orange peel, dried apricot and heather. Earthy notes. A slight coastalness.

Mouth: sweet, hot and a tad sharp at first, very peppery with the dried fruits on a second level. Plenty of spices and herbs with a little salt as well. Something rooty. Bitter oranges. A little resin. Water highlights the savoury notes and makes it a bit flat.

Finish: medium length, dry with some ginger, herbs and liquorice.
Not bad but I'm not a fan of this type of Springbank / sherry combination. I've read it should recall the famous Springbank sherry style of the 1960's but I don't share that view.
Around € 60.
Score: 77/100