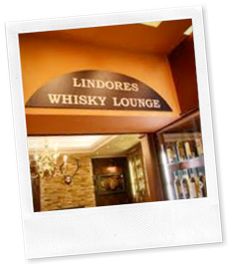 Today is a big day. I'm heading to the Lindores Whisky Fest. Usually this is an open festival, renowned for its selection of legendary old bottlings, but this year (due to construction works in the Bero Hotel), it's on invitation.
Anyone could suggest a bottle that he wished to donate for the occasion, and about 50 people were selected to join in. The Glenrothes 1979 single cask #3808 will be my entrance ticket.
Apart from the list of donations, all the bottles in the Lindores vaults will be available to try.
Lindores Whisky Fest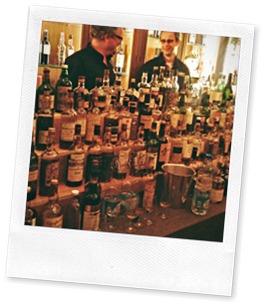 It was a great day. The concept worked fine, with enough space in the lounge to move around freely and talk with different people. There were around 50 bottles from participants (left part of the stand – click the polaroid to see the full picture) and at least the same amount from the Lindores vaults.
All of the bottles were high quality and some of them truly legendary. It would be impossible to mention everything I've tasted – the 1cl micro-drams allowed you to try as many different things as possible – but here are some of the highlights…
Bowmore 31 yo 1957/1988 (40%, Hart Brothers)

Very fruity and slightly exotic Bowmore, soft but showing a lovely profile.

Springbank 25 yo (46%, OB, Archibald Mitchell, dumpy bottle)

Among the best Springbanks I've tried so far. Similar style to the well-known 21 years old.

Glenfarclas 21 yo (51,5%, OB for Pinerolo)

The best Glenfarclas ever, according to some people. Maybe not the absolute stunner I was expecting, but still a hugely complex and attractive Glenfarclas.

BenRiach 34 yo 1976/2011 (48,2%, OB cask #3033 for Taiwan)

Wow! Not far from the best 1976's out there. Even cask #3557 for LMdW couldn't put it to shame.

Caperdonich 39 yo 1972/2011 (52,8%, Whisky Agency Private Stock)

Confirmed itself as one of the best Caper 1972's.

Glenugie 31 yo 1980/2011 "Exotic scenes in a Bedouin tent" (48,3%, SMWS 99.13)

Very fruity, slightly oriental. Very unique and hugely complex. Don't underestimate Glenugie!

Ben Nevis 40 yo 1963/2004 (45,7%, Douglas Laing Platinum)

Rather superb Ben Nevis with the usual lipstick, oranges and bourbon notes. Nothing to complain about.

Glenfarclas 1965 cask sample

The last 1965 cask in the Glenfarclas warehouses and probably one of the next bottlings by Luc Timmermans. Better than the first 1965 Family Cask and the 1965/1999 cask #3897 by The Bottlers that were also available.

Highland Park 30 yo 1956/1986 (55,6%, G&M for Intertrade)

Stunning Highland Park: smoky, fruity, chocolaty.
No doubt I'm forgetting to mention a couple of beauties. It didn't end with exceptional single malts either. What to say of this…
Johnnie Walker Red Label rotation 1924
Toro Albala Don P.X. 1947
(55+ years old Pedro Ximenez wine from the Montilla Moriles D.O.)
Boal Barbeito 1938 Madeira wine
Gosling's Bermuda Old Rum
1983 Gewürztraminer Magnum
from Olivier Humbrecht's Rangen de Thann vineyard
Also, congratulations to Johan & Koen for becoming new Lindores members.