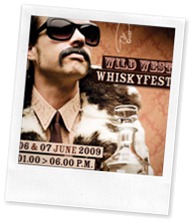 Wild West Whisky Fest is probably the youngest whisky festival in Belgium, but after its first edition it already has a solid reputation. The 2009 edition was relatively small but all the major distributors and brands were present. The unique experiment in which the same whisky could be tasted blind with and without added caramel or chill-filtration, was a big hit as well.
The second edition will be held this weekend – June 5 and 6 in Kortrijk Xpo (1 to 6 pm).
Expect to find the new releases by Thosop, The Nectar, Malts of Scotland and other distributors (including those who were absent in Gent or Liège), but also expect a whole range of rare antiquities that you won't find in stores (Lindores & Max Righi will be there). See you on Sunday?