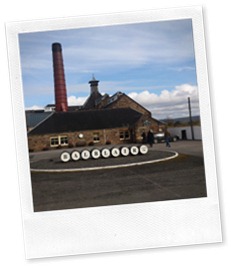 When approaching Balblair distillery, the oldest Highlands distillery still in operation, it was immediately clear that it's set in a more traditional landscape than Old Pulteney.
It's a charming plant surrounded by the ever-present Highlands meadows that hold a standing stone within the premises. After its foundation in 1790, the whole equipment was moved in the 1890's to be closer to the railway, but the water source is still the original well.
We caught Balblair at a special moment as they were doing heavily peated runs and the aromas at the distillery were clearly smoky. The peated spirit is intended for blending purposes only, so don't expect a peaty expression anytime soon.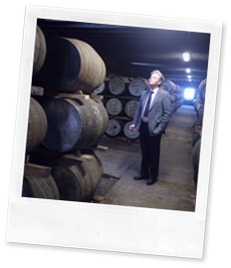 After a tour through the distillery, with its 2 stills plus one peculiar riveted still, and a quick stroll through one of its eight dunnage warehouses, we were taken to the brand-new visitor's centre completed late 2011. It's a great space with a glass box at its centre, holding a long tasting table and projection facilities inside. Distillery manager John MacDonald introduced us to the latest editions of the vintage releases: Balblair 2001, Balblair 1989 and the soon to be replaced Balblair 1978.
I usually don't write tasting notes when I'm not in the controlled environment of my desk, but I'll give my quick impressions.
Balblair 2001
(46%, OB 2011, 1st release)
Now at 46%. Nose: extremely fresh and fruity. There are obviously young notes (pear drops, banana and gooseberries) but it doesn't feel immature really. It shows lovely notes of marshmallows which I personally like very much. Vanilla and coconut as well.

Mouth: quite full and punchy, still very juicy and fruity. Now there's citrus candy joined by subtle cinnamon, honey and light oak. Clean barley. Vanilla. It takes water well, staying full-flavoured but gaining smoothness.

Finish: medium, still with the same juiciness and citrus zest.
I was pleasantly surprised by this one, it's a lovely bright and youthful dram, clearly better than the Balblair 2000 it replaces. In fact this might even be the optimum age for this distillery in my opinion. Really. Around € 40.
Balblair 1989
(46%, OB 2012, 3rd release)
Now at 46% as well. Nose: the typical bananas and apples are still here, but it's a more mature (not to say slightly overripe) flavour which I don't like that much. Caramel. Hay. Also more wood and spices (ginger, cloves).

Mouth: sweet, honeyed, with toffee, chocolate and some cinnamon and nutmeg. Hay again. All this means slightly less fruits, although there are still some oranges and pears.

Finish: quite long and rich, with malt and a bit more spices.
This one is not my favourite Balblair expression, but that's a personal thing, in the end it's still a well-made product. Around € 65.
Balblair 1978 (46%, OB 2008)
Nose: this one is much more spicy from the start. The oak brings the classic ginger / clove / nutmeg combo. Honey, vanilla and stewed fruits are now on a second level. Mint. Some nutty aromas.

Mouth: complex, with oranges and lingering pears. Plenty of spices. Nice balance for such an old malt.

Finish: not too long, half citrusy / half spicy.
A beautifully elegant Balblair, really good but it's also a lot more expensive of course.
Around € 165.