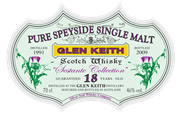 Silver Seal may be a new name on this blog, but this bottler dates back to 1979 and inherited the legacy of the famous Italian bottler Sestante. While they started as an occasional "third level bottler" sticking their own labels on Douglas Laing releases, they're now regularly coming out with own bottlings.
It's the highly respected Max Righi (Whisky Antique) who is now running the company and selecting the casks. Besides whisky, they're releasing quite some rum as well. After Whiskybase and Jurgen's Whiskyhuis became official distributors, bottles are seen more often in this part of Europe so I'm glad to try a few expressions.
This Glen Keith 1991 was bottled in the classic 70cl bottles as well as in 30x 1,5l magnums (for those of you who are really thirsty).
Glen Keith 18 yo 1991
(46%, Silver Seal 'Sestante Collection' 2009)
Nose: starts on juicy fruits (gooseberries, nectarines, pineapple) with a lovely flowery touch (buttercups, chamomile). Quite honeyed, with a marmalade sweetness. Soft notes of hay and mint.

Mouth: oily and honeyed, maybe lacking a little punch when compared to the similar Glen Keith 1990 by Malts of Scotland. Very vibrant though. Big fruitiness (yellow apples, pineapple again), maybe more fruit candy than actual fruits. Hints of ginger and oak. An easy style maybe, but well done.

Finish: medium long, with the same fruits, mocha and soft spices.
Good selection, and another great Glen Keith from the early 1990's. Sold out in Holland. Still available in Italy (€ 116) or in Belgium (€ 132), in both cases overpriced.
Score: 89/100