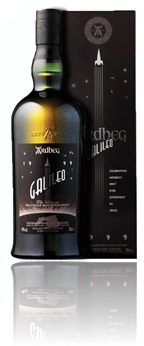 Ardbeg Galileo is a 1999 vintage (contrary to previous special editions that were usually NAS), aged 12-13 years and bottled at 49%. Its label was registered in February this year and the release is expected in September 2012. It's supposed to be a combination of first-fill ex-bourbon casks with a kind of Sicilian Marsala wine-enhanced version of Ardbeg Alligator.
Ardbeg 1999 'Galileo' (49%, OB 2012)
An Ardbeg "Rocket Tour" is going on in the US as we speak, marketed alongside the experiment which involved a small sample of Ardbeg new-make being taken to the International Space Station. Galileo is celebrating this first ever whisky experiment in space.
Update: there have been a lot of rumours going on for this Ardbeg Galileo, but soon after this blog post, LVMH in Holland has confirmed its existence and the fact that it's scheduled for September. It will cost around € 90. In the meantime, here are the official tasting notes as mentioned on the back label:
Nose Cone: Spicy toffee, tropical fruits and a puff of soot. Taste: salty, yet sweet with cream and a burst of smoking apricots.

Finish: long, lingering and serene.