For the past four decades, Glen Scotia distillery had an unstable production with slow periods and mothballing. The only official bottlings were a 12 year-old and a peated version. In November 2012 they announced a major investment plan to expand their global operations. This included the launch of five new expressions and a totally new packaging.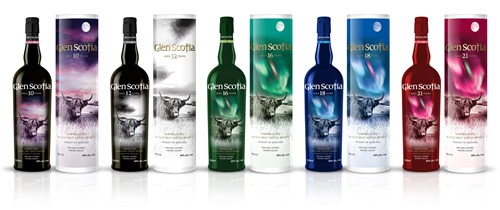 The new presentation was not particularly well received. Most reactions I've seen were somewhere in between 'alcopop style', slightly tacky and plain awful. De gustibus… In any case I'm quite sure it will catch your attention when sitting in a shelf, so it may have the desired effect in terms of sales.
The new range is pretty dense with 10, 12, 16, 18 and 21 years old versions not far from each other. With such intermittent production (e.g. none between 1994 and 1999), I wonder whether they have enough stock to differentiate so much. Anyway the good news is that the whole range is unchill-filtered and not coloured.
Glen Scotia 16 Year Old sits in the middle of the range.  It's bourbon matured. The Aurora Borealis on the label tells you it's part of the older expressions, and the green hue sets it apart from all others.
Glen Scotia 16 yo (46%, OB 2013)
Nose: gristy barley notes, with hints of yeast and a vague fruity sweetness in the back. Oranges and honey. Becomes quite biscuity. There's also a mineral side to it, with some briney coastal notes and a hint of smoke. Aniseed and pepper.

Mouth: fairly grainy and slightly austere. Slightly alcoholic as well. Ginger and salty liquorice. Evolves towards big, nice notes of lemon and pink grapefruit. Hints of toasty oak, ashes and a growing bitterness.

Finish: medium long, still some bitterness alongside a peppery heat.
I was pleasantly surprised by the nose, but the palate can't hide the quirky style that is common for most of the other Glen Scotia expressions I've tried. Around € 60.
Score: 81/100