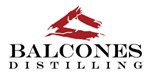 Balcones is one of the better known craft distillers in America, getting a lot of publicity after raving reviews by Jim Murray and recently in the World Whiskies Awards 2013. The distillery is producing corn whisky in Texas since 2008.
Balcones True Blue is made with blue corn (maize), which is toasted before going into the mash. Spirit is matured in charred American Oak and European Oak casks. New oak casks, although to meet the law a couple of litres of alcohol are poured in and taken out immediately, hence making a used cask…
Apart from True Blue (available in 100 Proof and cask strength versions) there is a Baby Blue, a Single Malt and a smoked Brimstone expression.
We'll be trying a couple of interesting winners of the recent World Whiskies Awards 2013. Talisker Distillers Edition won one of the awards, just like Bernheim Original, George T. Stagg, Cutty Sark Tam o'Shanter, Yamazaki 25, Ardbeg Galileo and this Balcones True Blue (best non bourbon American whiskey).
Balcones True Blue '100 Proof'
(50%, OB 2012)
Nose: butter and popcorn galore with a heavy sweetness of maple syrup and caramel. Honey pops. Soft sawdust. Cocoa cookies. Cinnamon. Hints of dried and slightly musty flowers as well.

Mouth: a lot of oak spices and heavy char. Lots of chilli pepper, hints of ginger and salt. Caramelized nuts. Hints of baked banana. The sawdust notes are now a little disturbing, it's just planky and even a little cardboardy. Goes back to cocoa.

Finish: long, sweet, spicy and again a little tannic.
It's a unique and promising dram and I'm sure being 100% blue corn based accounts for most of its character. Even though I'm not a huge popcorn fan, I like the base flavours. The oakiness is already very high, let's hope they manage to control that in later (older?) releases. Around € 80.
Score: 82/100