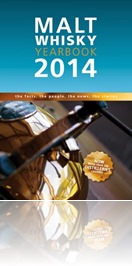 The latest Malt Whisky Yearbook 2014 arrived on my doorstep the other day. Without doubt one of the books that I look forward to most.
It is packed with information about the recent whisky year. Which new releases have hit the market, which evolutions did we see in distilleries, what's the situation like in other countries than Scotland, etc. Apart from the data and statistics, there are +/- 60 pages with articles written by renowned whisky writers (Buxton, Maclean, Roskrow…).
Here are some of this year's themes:
Emerging markets: how is whisky doing in China, India or Africa?

How did Scotch conquer the world during the last 150 years?

What's the effect of the recent mergers and acquisitions?

A short history of finishing

Experimental small distilleries like Teeling Whiskey, Zuidam or the Italian Puni distillery

A social look on whisky and whisky festivals
Some of these articles are quite 'industrial' – overviews of people, companies, figures – not always easy reading for outsiders but very insightful nonetheless. And even when you're not interested in the industry news, it's an essential list of distilleries, bottlings and events.
Most books are read once and then gather dust on your shelf, but this is the kind of book you'll keep picking up, to look up some facts and figures or simply read the interviews and articles. Ingvar Ronde does a great job editing such an in-depth overview of today's whisky industry.
The Malt Whisky Yearbook 2014 is sold through whisky shops all over Europe, distillery visitor centres or you can buy it online for £ 14.