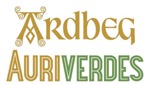 As a yearly tradition, Ardbeg releases a new limited expression for Ardbeg Day. This year, the result is Ardbeg Auriverdes.Its name is inspired by Brazil: Auri means golden (the liquid) and verde is green (the bottle). I really, really don't care for these kind of half-baked marketing tricks – come on, Ardbeg tied in with a World Cup – why?
Ardbeg Auriverdes is a 'designer whisky'. It has been distilled in 2002 and matured in second fill American oak casks, with custom toasted lids. Ardbeg has done some pretty successful experiments with toasted oak before (think of Ardbeg 1998 cask 1189 and cask 1190). In this case one cask head was toasted lightly (to invoke vanilla flavours) and the other one more dark (to invoke mocha).
You could buy Ardbeg Auriverdes at one of the Ardbeg embassies, but you'll have a hard time chasing it now.
Ardbeg Auriverdes
(49,9%, OB 2014, 6660 btl.)
Nose: Ardbeg alright. Typical iodine, peat and a pickled green pepper / mustard sharpness. Burnt toast and tarry ropes. Smoked fish. Soft citrus. Hints of coffee, although I'm not getting the big emphasis on mocha aromas that Ardbeg is promoting. Peppery notes. A tire shop. Chalky notes. Also a roundness – I wouldn't call it fruity but there are estery notes and vanilla nonetheless. Complex and balanced.

Mouth: starts with a slight sweetness (sweet bacon) before it turns to big smoke and lots of medicinal notes. Also faint bitter notes: grapefruit zest, roasted coffee beans. A little more narrow than the nose. The mocha does come out in the aftertaste.

Mouth: really long, sooty, with some dark chocolate and a pronounced oakiness.
Great nose, with maybe a little too much sharpness on the palate to be entirely stunning, but it's way better than what I expected from what's essentially a result of clever marketing. One of the best modern Ardbegs in my opinion. Around € 100.
Score: 89/100