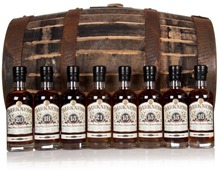 Master of Malt / Maverick Drinks has a new sub-brand called Darkness! It's a range of sherry finished whiskies, "sherry monsters" if you like.
To get this dark sherry profile, the whiskies are finished for three months in 50-litre Octave casks.
Some of them, like the Ardbeg 21yo PX or the Macallan 15yo PX, are actually not very dark at all, but they're said to have taken over the typical sherry profile nonetheless. Of course it depends on the type of maturation it received before the finishing period.
We'll start with the darkest of all, a Benrinnes 15 Year Old that is available in an Oloroso version and a Pedro Ximénez version. I'm not entirely sure, but I hope the base whisky was the same for both versions, so that we can really see the effect of the sherry.
Darkness! Benrinnes 15 yo (52,9%, Master of Malt 2014, Oloroso finish, 50 cl.)
Nose: very jammy, fruity sherry. Plum and blackberry jams, cherry preserve. Sultanas. Fruitcake and chocolate. Big sherry indeed. There's also a hint of burnt bread crust and peppercorn. A bright top note of sourish fruits and mint as well. Very good.

Mouth: punchy. Slightly winey as well, with some grape skin and peach pits. Raisins. Some dry woody notes. Aniseed and nutty notes. Feels a little "high pressure cooked".

Finish: long, quite dry and slightly sour.
On the nose: great, pretty much what we're looking for in a sherried dram. On the palate: very modern, slightly winey, less to our liking. Around € 75.
Score: 84/100
Darkness! Benrinnes 15 yo (53,3%, Master of Malt 2014, P.X. finish, 50 cl.)
Nose: on first sight, just as jammy and juicy. But it feels slightly capped by a little more dusty oak and a few matchstick notes. At the same time slightly more candied as well (cherry candy). Fudge and hints of burnt sugar. It misses some of the brightness of the Oloroso version.

Mouth: same effect. There's a sharp, winey side to it, which may seem quite contradictory with the sticky, overly sweet character of PX. Same dried fruits, raisins, walnuts and liquorice. Big wood influence already, with a bittersweet tang.

Finish: long and fairly dry, on pepper, clove, wood and lingering dark fruits
I do think it's the same whisky finished in different cask. But not all that different – after all it was only three months. The Oloroso version wins because of the nicer nose. Around € 75.
Score: 82/100