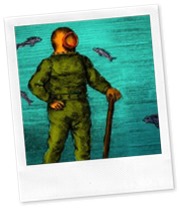 The latest series from The Whisky Agency is nicknamed Old Times Diving. On the labels we see people with antique diving helmets and old-style oxygen systems.
Contrary to previous series – that always tried to combine whiskies of different genres and with different flavour profiles – the new series revolves around 'fruitiness'. We can't be against fruits, can we? There's a Glenturret 1980, Ben Nevis 1995, an undisclosed Irish malt 1988 and this 21 years old Glen Keith 1992. All ex-bourbon if I'm not mistaken.
Glen Keith 21 yo 1992
(51,4%, The Whisky Agency 'Old Times Diving' 2013, bourbon barrel, 177 btl.)
Nose: starts clean and narrow, with fresh apples and subtle grassy / minty notes. Then gets wider, with more candied fruits (pineapple, nectarine) and hints of strawberry bubblegum. Vanilla cake. Hints of buttercups and some mineral notes (gravel) in the background. Maybe even a hint of smoke?

Mouth: fruity notes, in a very slightly tropical way (tinned pineapple, coconut, yellow plums). Again balanced by grass, ginger and a little grapefruit skin. A little vanilla, pepper, soft herbs and traces of oak.

Finish: long, with some fruity eau-de-vie and a peppery heat.
A very easy-going, bright Glen Keith. A perfectly clean example of the simple, fruity pleasures American Oak can bring to a modern whisky, but still a bit more than just fruits. On its way to stores as we speak. Around € 115.
Score: 88/100