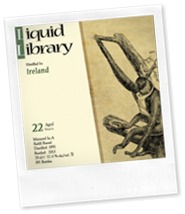 The Whisky Agency's Liquid Library series has a redesigned label. The old minimalist white / orange label is gone and replaced with a bamboo-coloured label featuring exotic animals. I'm not sure whether this is a permanent style or a theme that will change each time a new set is released.
We're trying an undisclosed Irish single malt distilled in 1991. Of Ireland's distillers, only Bushmills and Cooley produce single malt whiskey.
Irish single malt 22 yo 1991 (52,4%, TWA Liquid Library 2013, refill barrel, 191 btl.)
Nose: it's definitely Irish for its slightly bubblegummy fruitiness (apricots, quinces, green banana in the background) but it's rather subdied and they're mixed with subtle Highlands elements (mineral notes, wax and oily notes). Traces of vanilla and grains with a floral edge.

Mouth: more typically Irish. Lots of maracuja ice cream, really nice. Bananas. Growing grassier and spicier. Lemon green tea. Gets faintly medicinal towards the end – think eucalyptus or menthol – funny but nice.

Finish: medium length, with some peppery oak and a lingering fruitiness.
Very nice drinker's whiskey. Bright, fruity, but not a one-trick pony. I'm no Irish whiskey expert but my guess would be Tyrconnell (Cooley). Should be available in a couple of weeks. Around € 170.
Score: 87/100