With the recent boom of Japanese whisky and the direct connection of Bowmore with Japan (they are owned by Beam Suntory), we now welcome a new Bowmore Mizunara Cask finish.
Mizunara oak only grows in specific parts of Asia and although it grows slowly and it is a little difficult to work with, Mizunara casks have always been used in Japanese whisky production to induce some unique aromas. Suntory only produces around 100 casks per year and this is the first time an Islay whisky is finished in these casks (which are probably refill Yamazaki casks).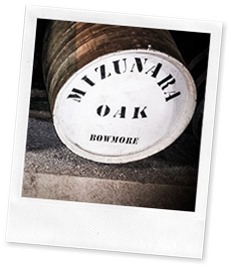 Bowmore Mizunara cask is officially NAS, but all the whisky is 1990s distillation – which makes it seem strange to avoid an age statement… It's a mix of bourbon casks and some sherry casks which are then transferred to Mizunara for three years. Traditionally, Mizuanara oak needs quite a long time to make its unique profile noticeable, so we're keen to find out how big the effect is after a relatively short finish.
Bowmore Mizunara Cask finish (53,9%, OB 2015, 2000 btl.)
Nose: bright and vibrant, with Bowmore's trademark gentle peatiness and quite a big amount of fruits, including the lovely tropical notes (pineapple, mango, green banana) that are common in mid-1990s Bowmore. Also nice heathery / herbal notes. Some vanilla roundness as well as subtle flinty notes. The Mizunara influence seems small, maybe it shines through in the wealth of spices (cinnamon, clove) and a slight hint of sandalwood.

Mouth: now I'm more impressed than on the nose. It starts coastal and briney, with a good dose of earthy peat before a burst of fruits appears. Lime, pink grapefruit, hints of passion fruit, maybe lychee. Still quite spicy (pepper, cinnamon). Back to eucalyptus honey and vanilla cream.

Finish: long, slightly leathery with oriental spices and peat.
Sure, it's expensive. Around € 1000 means you're paying a considerable 'investors supplement' even when it's a unique product. On the other hand it's also very good, with a balanced combination of peat and tropical fruits and a (really subtle) oriental twist.
Score: 91/100