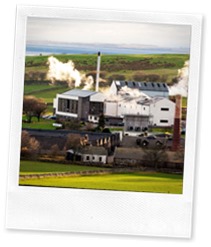 While the legendary vintages of most distilleries appear to be in the 1960's and 1970's, Clynelish has recently earned a lot of praise for its 1997 production. Diageo seems to have sold off a large batch of casks which are now being shared / distributed among virtually all independent bottlers (my article about the hierarchy of independent whisky releases is still up-to-date in this respect). These middle-aged expressions are all very good and some are excellent, so let's try three new versions head-to-head.
First up is the latest bottling in the Liquid Art series, released today. The label is designed by a highly respected artist, Jef Geys. His name may not ring a bell but he has worked with Jan Hoet, Panamarenko and the likes and he's considered one of the greatest living Belgian artists. There's a big retrospective coming up in the Ghent Museum for Modern art. I'm just saying this is world class and it's interesting to see his work on a whisky label.
Clynelish 1997
(53,3%, Liquid Art 2014, 132 btl.)
Nose: I picked up a slight farmy side at first, but it seemed to disappear really quickly. After that, a surprisingly zesty-fruity Clynelish, in which the typical waxy notes are on a lower level. Instead it has a big yoghurt-like side, something of butter milk even. Quinces, banana candy, oranges and even hints of pineapple. Sweet and sour, rather creamy and rounded, with a nice minty / grassy freshness on top. Huge notes of lemon meringue. There's a delicate greasy note but a little different from others.

Mouth: a big zesty fruitiness again, although there's now a wider array starting with lemons and pink grapefruits going all the way to lime, almonds and passion fruits. A little green tea. Traces of vanilla, toffee and menthol. A slightly bigger mineral and salty side as well now.

Finish: long, with a mineral twist.
Not entirely what we've come to expect from Clynelish 1997. It's fruitier but also milkier, including some nicely different touches, which add another dimension. One of the most interesting Clynelish bottlings from this era. Good choice. And I love this label. Price: € 95.
Score: 90/100
Clynelish 1997 (50,9%, The Whisky Mercenary for Cask Six 10th Anniversary 2014)
Nose: maybe slightly warmer and definitely a notch waxier, but other than that, also one of the fruitier, rounder 1997's. Pears, sweetened lemon juice and pink grapefruit. Touches of honey. A bit more mineral / earthy notes here as well.

Mouth: a tad more classic, with more lemons and lemon peels, as well as some oranges and a faint hint of passion fruit. A little warmer than the Liquid Art release, but maybe slightly less complex as well.

Finish: long, keeping an excellent balance of zestiness and fruity roundness.
A bit more typically Clynelish 1997, this one. The nose of the Liquid Art release definitely has something extra, but on the palate I may prefer this bottling. Both very high quality though. Sold out.
Score: 90/100
Clynelish 1997 (52,4%, Maltbarn 2014, bourbon cask, 166 btl.)
Nose: again quite a bit warmer and definitely more honeyed than the Liquid Art. Clementines, pears and peaches. The most jammy of the trio. Hints of pastry and beeswax. A faint hint of smoke as well.

Mouth: starts sweet, with a tad more vanilla and more American oak influence. This also means a bigger spiciness (pepper, liquorice). After a while, the citrus zest comes rolling in and takes over the entire palate. Grapefruit skin, lemon peel. A bit of an oaky tang towards the end.

Finish: long, zesty and spicy. Lemons and a pinch of salt.
Maltbarn selected the warmest, most luscious nose in my opinion, warmer than usual. On the other hand, it gets a little bitter on the palate. Price: € 90. Sold out.
Score: 90/100
I tried n°1 and n°2 head-to-head first. I thought the first one was more special and less conventional, and I liked it better for that. A couple of days later, I revisited both and added the third sample… On the nose alone, n°3 would be my favourite, but the palate is less convincing. It becomes hard to reflect these differences in a score.
Conclusion: Maltbarn has the nicest nose. Cask Six has the nicest palate. Liquid Art is nicely different and quite special. Whichever you can find, they're worth the money!