The other day I was invited to a Mortlach press dinner in Brussels, where the three new core expressions of The Beast of Dufftown had their Benelux premiere. I was a bit surprised, as the revamped Mortlach have been available internationally since April 2014. Such regional differences are difficult to enforce when everyone has access to the internet and is buying pretty much everywhere, right?
See my post about the Mortlach 18 Year Old for more background information.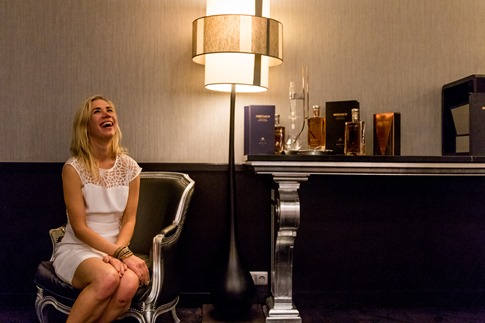 It was a great experience with nice people and some good food pairing (I liked the coffee sauce with the guineafowl, okay?) and a charming presentation by the international brand ambassador Georgie Bell.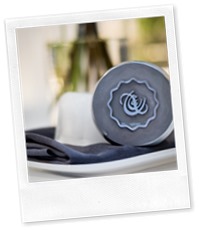 It was interesting to try their new Mortlach ice stamp, a metal stamp that allows you to "burn" the family crest of the distillery founders George and Alexander Cowie onto a (big) block of ice, simply with the heat of your hand. A gimmick maybe, but it worked well.
The audience seemed to prefer the whisky without the ice, but I can imagine bloggers, bartenders and retailers are not representative for the general whisky drinker.
With its typical 2.81 times distillation, Mortlach is technically always a vatting of spirit produced in different stills, which results in different layers of character. The distillery has always been known for its meaty, savoury style but it can really go in different directions when coupled to certain cask types.
The new range was inspired greatly by history. For example the bottling strength of 43,4% refers to early 1900's US bottlings of Mortlach that were 86.8 proof. Also the style of the bottles was inspired by Art Deco craftmanship, with specifically shaped glass combined with ornate metal elements.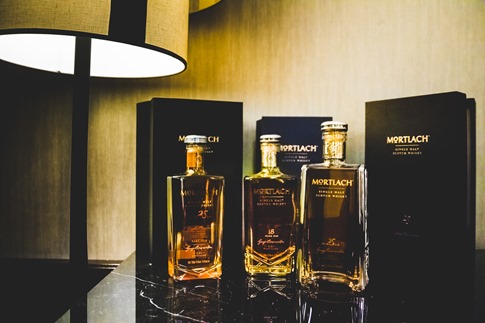 For this review, we'll focus on the top of the range, the Mortlach 25 Year Old. It is made up of refill American oak hogsheads. Like the other bottles in the range, it is only available in 50cl.
Mortlach 25 yo (43,4%, OB 2014)
Nose: fresh and vibrant. A very fruity core, including oranges, apricots, honeydew melon and a faint hint of passion fruits. Also nice honey and floral scented candles. Then a little toffee and vanilla. Hints of exotic woods and incense. It seems the typical meaty side is less prominent here and we're seeing more of the old American oak character here.

Mouth: again not as fat as some other Mortlachs, but nicely energetic. Quite sweet, with peaches on syrup, plums and a hint of Turkish delight. Soft mint and eucalyptus (cough drops indeed). Still some honey and polished wood. Speculoos. Nice star anise too.

Finish: rather long and honeyed, becoming more spicy and earthy now (pepper, liquorice).
A very rich, complex dram with a character that's more classical and slightly less typical for this distillery. The perfect highlight in a very solid range, but now for the bad news: it's around € 770 for 50 cl.
Score: 89/100