A lot of exclusive releases for The Nectar lately on the blog of course – they are probably the biggest whisky importers in our country and obviously they're doing what they can to impress at their own festival…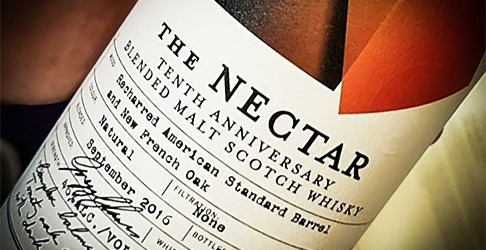 This is a bespoke bottling by Compass Box for the Tenth Anniversary of The Nectar in Belgium. John Glaser took some input from The Nectar and created a blended malt with two major parts.
Around 50% is Ardbeg matured in recharred American barrels. The other half is the classic 'Highland malt' blend which is used by Compass Box for so many compositions (Clynelish, Dailuaine and Teaninich). This part was matured in new French oak hybrid casks – pretty much the Flaming Heart recipe.
Compass Box 'The Nectar Tenth Anniversary' (46%, Compass Box for The Nectar 2016, blended malt)
Nose: a rich nose which is dominated by the Ardbeg part. It's fairly peaty but there are nice, deep, dark fruity notes behind it. Nice combination with the tarry notes, camphor and dry shells on a beach. In the background there's a highly aromatic (herbal / floral) touch, perhaps the French oak coming through.

Mouth: really aromatic again, with more vanilla sweetness and less of the fierce Ardbeg power. More on sweet fruits (forest fruits, bramble). Seville oranges. Gentle, sweet ashes.

Finish: quite long, quite ashy again, with sweet smoke and liquorice.
A highly convincing recipe again: the typical Compass Box malts with a good dose of sweet, smoky, tarry Ardbeg. The right balance and pleasant to drink. Should arrive in stores soon. Around € 115, recommended.
Score: 90/100