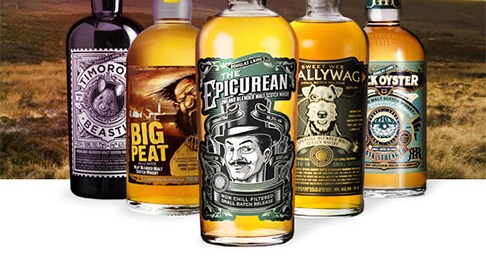 A couple of weeks ago, the Remarkable Regional Malts collection from Douglas Laing was completed with the launch of The Epicurean, a marriage of Lowlands malt whiskies.
We now have Timourous Beastie from the Highlands, Scallywag from Speyside, Rock Oyster from the Islands, Big Peat from Islay and The Epicurean from the Lowlands.
The Epicurean
(46,2%, Douglas Laing 2016)
Nose: starts a bit too mashy and feinty for my taste. Sweet grasses after a while, with some citrus fruits and green banana. Hints of grappa. Faint metallic notes too. Takes a bit of time before the typical Lowlands floral / herbal and citrusy profile comes out.

Mouth: nicer and juicier than the nose, although the raw edge never goes away. Lemon sweets, melon and sweet grasses. Zesty notes and ginger. Some creamy wood underneath, with some caramelized sugars in the background.

Finish: medium long, fairly light lemon underpinned with oak and a herbal touch.
It shows the typical lemon and grassy touches of the Lowlands alright, but there are also noticeable feinty notes and a youngish character. Not entirely convinced, but the Lowlands are not my preferred region anyway. Around € 40-50.
Score: 77/100