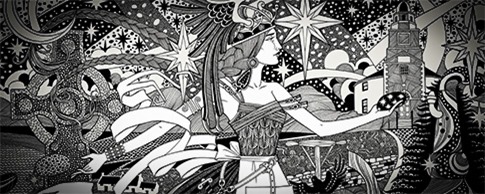 Yula was the first of a three part trilogy of limited edition Island Malt Scotch Whisky released by Douglas Laing.
Yula is inspired by the ancient Islay legend of a beautiful but tragic Norse goddess, searching for a long lost love with an apron full of stones. During the journey the apron is torn, leaving a trail of islands. At the end she finds love but also tragically dies in the sea. The last stone that fell out of her apron formed Islay.
The first chapter of Yula is comprised of different peated malts from Islay and other islands (think Highland Park or Jura), all distilled in 1995.
Yula 20 yo 1995 (52,6%, Douglas Laing 2015, 900 btl.)
Nose: if you're familiar with Bowmore of the early 1990s, then you'll easily recognize this. It's coastal and briney, with very light acetic touches, but it mingles wonderfully with a very nice fruitiness. Gooseberries, guava, barbecued pineapple, pears… Sweet barley. Hints of verbena. Some aromatic pepper and gentle soot.

Mouth: very citrusy at first (grapefruit, lemon), growing wider with touches of melon and passion fruits. I'm getting a few hints of lavender and violets as well, but nothing too bad. Some charred notes and peat. Fades on slightly bitter, zesty notes with light liquorice.

Finish: medium long, sweet and salty, with a medicinal edge.
You gotta love this combination of tropical fruits and coastal peat. The score would have gone into the 90s if not for the floral (soapy) touches on the palate. Around € 155. Still available in some places.
Score: 88/100