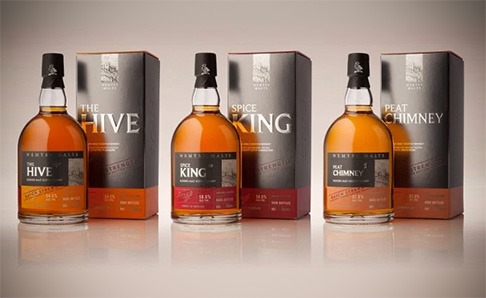 Wemyss Malts – Batch Strength is a new series of cask strength versions of the existing The Hive, Spice King and Peat Chimney, three blended malts that have been around for quite a while now.
The Batch Strength releases have been selected and blended with casks of single malt whiskies from over 10 Scottish distilleries.
They seem to have dropped the 8 Year / 12 Year age statements that were on the previous lower-strength bottlings. All of them will be available soon for around € 50-55.

Wemyss The Hive 'Batch strength' (54,5%, Wemyss Malts 2016, Batch #001, 6000 btl.)
The Hive is composed around fruity and sweet Speyside whisky.
Nose: thick honey, toffee and orange candy. Some cider apples and plum syrup. Hints of overripe melon. Bakery aromas. Almonds. Honeycomb. A little hay and grass. Maybe not the bright nose I was expecting, but it does in fact have a big beehivey side.

Mouth: simple, rough and very malty. Sugared cereals, honey pops for instance. Sultanas and apples. A little gingerbread, chocolate and fudge. Toasted bread. Some waxy notes with a peppery edge.

Finish: medium long, spicy with a caramel sweetness.
Not bad, sweet and honeyed indeed but it feels a little heavyweight and liquorous to me: limited complexity doesn't pair too well with high strength in my opinion.
Score: 80/100
Wemyss Spice King 'Batch strength' (56%, Wemyss Malts 2016, Batch #001, 6000 btl.)
Spice King is composed around oily, West-coast Island malts with gentle smoke.
Nose: richer, with spices up front. Black pepper, cinnamon and nutmeg. It has a leathery, earthy quality with faint smoke. Talisker-style. Behind this is a darker, more sherried fruity layer. Orange zest. Burnt sugar. Hints of tobacco.

Mouth: good, although seemingly young. A big pepper & salt combination, with more peat than the nose suggested. Some cinnamon and ginger, brown sugar and an oaky note. Liquorice. Something of a young Ledaig too.

Finish: rather short, with a light, ashy aftertaste and a briney hint.
I really liked the nose of this Spice King, but it felt much simpler on the palate. It kept reminding me of its youth, something I didn't have in The Hive. Still I like this profile better.
Score: 82/100

Wemyss Peat Chimney 'Batch strength' (57%, Wemyss Malts 2016, Batch #001, 6000 btl.)
Peat Chimney revolves around heavily peated Islay whisky.
Nose: nice ashy notes, with coastal hints and tarry ropes. I would say it's more coastal than deeply peated. Sweet rhubarb in the background. Embers on a barbecue. Sugared Lapsang Souchong, pepper and roasted nuts. Bandages.

Mouth: raw, citrusy peat. Youngish. Lemon zest and lots of sweet chilli notes. Plain peated barley too. Sooty notes behind it, as well as a hint of vanilla and pear. Liquorice.

Finish: long, earthy and sooty.
The most intense of the series, probably the best as well. It feels right, the youthful character doesn't bother me and the price helps to make this a nice expression.
Score: 83/100