Which new bottlings did we see the past few days?
BenRiach Cask Strength
There's a BenRiach Cask Strength coming up, similar to the GlenDronach Cask Strength from its sister distillery I guess. Batch #1 will be bottled at 52.2%.
Balvenie Tun 1509 Batch 3
Then there's The Balvenie Tun 1509 Batch #3, bottled at 52.2%. Should be similar to earlier batches.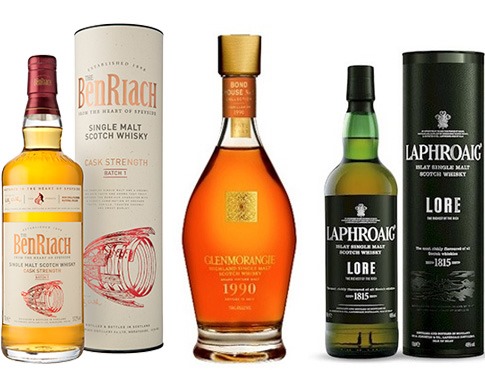 Glenmorangie Grand Vintage 1990
In the TTB database we found a Glenmorangie Grand Vintage 1990 at 43%. It's apparently the start of a Bond House collection. Based on the paperwork it should come in the bottle type used for the Glenmorangie 25 Year Old and other premium bottlings.
Laphroaig Lore
Laphroaig Lore is probably the talk of the town at the moment. It's a new NAS release (whiskies inside range from 7 to 21 years), matured in a variety of cask types, including first-fill Bourbon barrels, quarter casks and Oloroso Sherry hogsheads. It's described as the 'richest of the rich' and should be around € 110, which most people seem to find a lot for a NAS release with a slightly vague profile.
Jameson 'Whiskey Makers series'
From Ireland we're getting a new trilogy from Jameson: The Whiskey Makers Series. The three expressions, all bottled at 43% are named 'The Distiller's Safe', 'The Blender's Dog' and 'The Cooper's Croze' celebrate the passion of the distillery's crafstmen. The Cooper's Croze for instance is meant to highlight the influence of wood.
Teeling 24 Year Old
Another Irish whiskey due to arrive soon. We already mentioned this one when reviewing the Teeling Revival. Interestingly, the Teeling 24 Year Old would not be bottled in the same bottle as the 21 Years or 26 Years. See below.
Update: there will also be a limited edition Teeling 24 Years – Rum cask #10687 to celebrate the 5th Anniversary of the brand. Just 195 bottles (the dumpier version this time) at 47,6% for € 270.