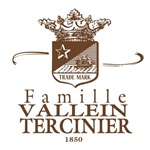 As you know, some of my long-time malternatives include sherry, Madeira and vermouth (in summertime). Lately I heard quite a few whisky enthusiasts rave about certain brands of cognac, so I was glad my tasting club Fulldram organised an evening with the owners of Vallein Tercinier, a small but highly regarded cognac house.
The Vallein family owns the Domaine des Forges in the village of Chermignac since the 18th century, where they harvested grapes and produced wines. Around 1850, Georges Vallein started a trading company and created his own blends of cognac. Today, the fifth generation of the family is managing the company.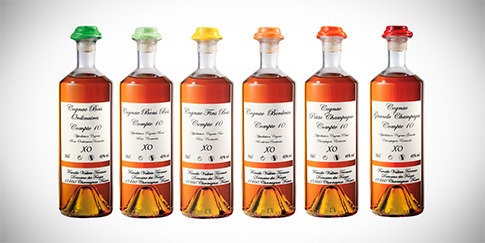 The tasting started with a series of cognacs from each of 6 harvest zones within the Cognac region, the 6 crus, from the lower end Bois Ordinaires all the way to the highest classification Grande Champagne. Each of them is aged for about twenty years (already placing them within the highest XO indication) and they are selected to express the typicality of different harvest zones.
It's an educational series (generally sold as a complete set) to get an insight in the specific characters of different eaux-de-vies that are usually blended to create a harmonious ensemble. I especially liked the Borderies and the Grande Champagne, but to be honest none of them really stopped my heart from beating. Of course this was only an introduction.
Vallein Tercinier's core range revolves around assemblages, blends of different ages. We'll have a look at three of them and end with a special release.
Vallein-Tercinier Napoléon
This is a blend of Fins Bois + the highest crus Petite and Grande Champagne. The youngest component is 15 years of age. Like most of their cognacs, it is brought down to 40% vol. but very gradually to guarantee a good integration.
Sweet and spicy on the nose, with brown sugar, a little caramel and a rougher, woodier touch. Nice palate, with lightly tropical fruits, liquorice, vanilla and a touch of cassis. Around € 60.
Vallein-Tercinier
Fine Champagne XO
Only Petite and Grande Champagne this time. While XO is officially at least 6,5 years old, this one only contains eaux-de-vies of 35 years and older.
More delicate, brighter and more leathery on the nose. Nice top notes of lime and flowers. A little vanilla and marzipan as well. Same elegance on the palate, with honey, light spices and rounded fruity notes. Seems younger than it is. Around € 80.
Vallein-Tercinier Hors d'Âge
Also Petite and Grande Champagne. The youngest component is 40 years of age, while the oldest eau-de-vie dates back to 1922! Bottled at 42%.
In their range of cognacs, this is where the tropical fruitiness really starts to shine, mainly tangerine. Some apricot jam, mint and beeswax. Cinnamon too. On the palate, quite some spicy, woody notes at first, with cinnamon and ginger, but then a beautiful burst of mellow tropical fruits, honey and vanilla cake. Complex and very tasty, great maternative, probably the best price/quality ratio of them all. Around € 110.
We'll end this session with a Brut de fût, a cask strength cognac, part of Vallein Tercinier's premium portfolio, which includes vintage cognacs that go back as far as 1971, 1969, 1965, 1949 or 1934.
We're having Vallein-Tercinier Lot 90, a 'Très Vieux' cognac selected for their importer Malternative Belgium and Liquid Art. It is bottled from a single cask of 1990 eau-de-vie from Grande Champagne, the smallest zone around Segonzac, South-East of the city of Cognac. It comes at a whopping 51% vol.
There are less than 1000 bottles available, 180 of which are sold by Liquid Art who include a piece of art as a background inside the wooden box.
Vallein-Tercinier Lot 90 'Très vieux- Brut de fût' (51%, OB for Malternative & Liquid Art 2016)
Nose: starts almost entirely on wood. The alcohol mostly highlights ginger and nutmeg, with lots of pencil shavings. This needs time. After 15 minutes, it opens towards leather, leafy notes and eucalyptus. Water helps (a lot) but it doesn't have the tropical fruitiness of older examples.

Mouth: leathery notes, lots of mint and eucalyptus, with the fruity notes already present without water. However at full strength the camphory notes and spices (pepper, ginger, nutmeg) overtake the fruits. No bitterness but a certain raw edge nonetheless. Water brings them out: apricots and sweet oranges. Aniseed. Lots of tobacco as well. Underneath there's always a hint of herbal liqueurs, Fernet-Branca and the likes.

Finish: long, same flavours and spiciness.
After the balance and rounded fruitiness of the expressions above, this is a powerhouse, with hard-hitting spices. Of course the purpose of a brut de fût (a rare concept in cognac) is to give you this experience and allow you to play around with water. A very complex, interesting cognac, but certainly not an easy charmer. A brave choice, I think it would have been easier to convince maltheads with other cognacs from this house. Around € 155.
In a next session, we'll try five of the best Vallein-Tercinier cognacs, some of which 80 years of age: Millésime 73, L'érotique 69, the renowned Lot 65, Rue 34 and the Très Vieux Fins Bois années 40.
Update: Vallein-Tercinier cognac: Lot 65, Érotique, Rue 34 and more