Glendalough 13 Year Old is an Irish single malt whiskey, made in small batches in copper pot stills and matured in first-fill bourbon casks.
I've read the original plan was to release this as a 12-year-old but it was matured an extra year in honour of rugby great Brian O'Driscoll, a shareholder in the company. O'Driscoll wore the No.13 jersey for Ireland.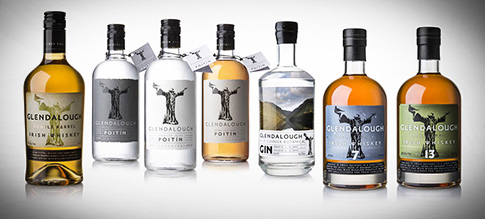 Glendalough is currently producing spirit with its own Holstein stills, but until this reaches maturity, they're buying external malts for their bottlings (7 Year Old and 13 Year Old). They also sell gin, a single grain 'Double Barrel' and Poitín – a predecessor of whisky, if you like – traditionally an unaged spirit distilled from malted barley, sugar beet and potatoes.
Glendalough 13 yo
(46%, OB +/- 2016)
Nose: we're close to Scotch here, in the sense that there is no abundant fruitiness and you get a classic ex-bourbon character. Lots of citrus (oranges, lemon zest), subtle honey and a classic biscuity note. Grassy touches. Light floral notes, as well as pine needles, and something of marshmallow.

Mouth: rather sweeter and fruitier. I get orange candy, peaches and a hint of guava. Punchy pepper and clove, and some warming oak. Fades on drier notes and herbal tea.

Finish: quite long, herbal and grassy now, with a charred edge and an underlying candy sweetness.
A fine dram, albeit with a less emphatically Irish profile. A balanced whiskey with a bit of everything. Could this be Cooley? Around € 60.
Score: 83/100