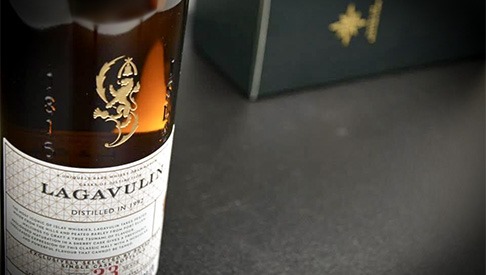 This is the privately bottled Lagavulin 23 Year Old 1992 in the Casks of Distinction programme from Diageo. Check this page for more info.
A bottle of this Lagavulin is the highlight of the current auction over at WhiskyAuction.com. It has already reached € 2200 and there's almost a month left for placing bids. The bottle number is 419/420 – it is in fact the owner trying to gauge the market and figure out his return on investment. Mr. Kruger is a good friend of his.
To have a nice sparring partner, I dug up my bottle of Lagavulin 21 Year Old, the renowned 2007 edition bottled at 56,5%.
By the way, I've heard the next Casks of Distinction would be a Rosebank… And Mr. Zhao confirmed he is working on a Talisker 'Casks of Distinction'.
Lagavulin 23 yo 1992 'Casks of Distinction' (55,7%, OB 2016, Bodega sherry European oak butt #5745, selected by Boyao Zhao, 420 btl.)
Nose: definitely nicer than the 21yo. Brighter, more citrusy, with more orange peel and grapefruits. Slightly sharper, more coastal elements too. Sea shells, oysters, beach fires. There's also a good dose of mint and camphor. Ferns. Some herbal infusion. Very elegant. Fresh leather. Hints of grapefruits and shoe polish. Very complex, perfectly clean (I still have some issues with the first 21yo), in a way more towards a Brora, parly because the sherry is very discreet in this Lagavulin.

Mouth: again a very minimal sherry influence, but that's not a downside. It's great, rather naked, with the certain beautiful austerity of camphor, salty smoke and a gently bitter medicinal side. Lemon peel, Seville orange, just a hint of dark chocolate. Then back to mineral notes and leafy notes. Tobacco. Liquorice.

Finish: long, on cold ashes, liquorice and spices, with the lightest hint of roasted coffee beans.
The nose of this Lagavulin is superb: it's aromatic, elegant, with all the classic elements in the right amounts. On the palate, it becomes sharper and more mineral – I was hoping for a bit more sherried fruitiness maybe – but it's still a cracker, better than the 21yo and perhaps closer to the Feis Ile 2015. This was a private bottling, an investment maybe but at least it seems to be a whisky lover. Many, many thanks for the sample, Chihming!
Score: 93/100