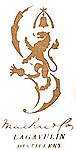 There has been some discussion about this new Lagavulin 21 year old (part of the Diageo Special releases 2012). On the label it says "cask finish: sherry", but recently Serge Valentin posted on Facebook that there was official confirmation for the fact that is was fully matured in European oak sherry casks. So it's a perfect opponent for the old Lagavulin 21 years bottled in 2007.
Lagavulin 21 yo 1991 (52%,
OB 2012, first fill sherry, 2772 btl.)
Nose: a leathery type of peat, cold ashes and deep smoke. A little vanilla. Then some pepper and cardamom. Some iodine as well, mixing nicely with eucalyptus and camphor. Linseed oil. Hints of brown soap (in a good, waxy way) and geraniums. Quite some fruity notes too: red apple and raisins, even some fresh carambola. Compared to the 2007 edition, this is more velvety, subtle, a little sharper and most of all: hardly sherried.

Mouth: fairly dry and mineral now, quite tarry as well. Maybe not as full-bodied as expected. Liquorice and pepper. Again a spicy / woody layer, but a more vague spiciness now. Growing even more mineral. Tobacco sourness rather than tobacco sweetness. Slowly brings forward a couple of rounder notes (dried fruits and chocolate) before ending on nutty notes (even a little Gianduja).

Finish: very long, on cold ashes, seaweed, spices and a vague cocoa sweetness.
This Lagavulin 21 years is much less sherried, cleaner and also a lot thinner than the 2007 version. Was it a sherry finish in the end, or second-fill casks maybe? I'd say this tastes like a variation on the standard expressions while the previous 21yo was a variation on the Distiller's Editions. On the nose the elegance and subtlety work really well, leaving room for a lot of tiny aromas, but on the palate it also translates as a slightly narrow profile for an old Lagavulin. I didn't see this coming, both are top Islay drams, but in the end the old 21yo is much more fun. Around € 450-500.
Score: 92/100