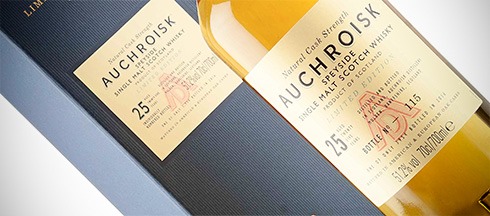 Auchroisk is another one of these distilleries that are rarely released as a single malt. In 1986 the distillery released The Singleton of Auchroisk, a 10 year old whisky that had been finished for two years in a sherry cask. Finishing is now a widespread practice, but it is believed to have originated there. A certain lack of know-how was noticeable, ahum, so the expression was withdrawn but the Singleton name was resurrected for a series that now includes different distilleries.
There has been a 20 Year Old bottling in 2010 and an Auchroisk 30 Year Old in 2012. This Auchroisk 25 Year Old was distilled in 1990 and matured in refill American oak hogsheads and refill European oak sherry butts.
Auchroisk 25 yo 1990
(51,2%, OB 2016, 3954 btl.)
Nose: a fresh mix of sweet peaches and pears, bright lemon peel and a hint of white blossom. Rather scented and feminine perhaps. Minty notes, a little beeswax, hints of aniseed and leather. Very soft grassy touches. Reminds me of Albariño wine in a way.

Mouth: similar sweet and sour mix. Fruit salad, fruit cake, with a hint of pepper. Slight varnishy / fragrant touches. Cereal notes, creamy vanilla, a little ginger. Still fresh, thanks to a whiff of menthol.

Finish: quite long, still fruity and minty with a warm spicy glow.
A fruity, entertaining apéritif malt with an exceptional freshness and a light green side. A little expensive to be merely an apéritif though. Around € 350.
Score: 87/100