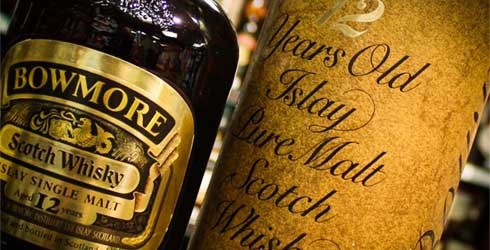 Ah, the fine dumpy Bowmore 12 Year Old and Bowmore De Luxe. Discovering these 1970s bottlings were such a revelation for those of us who grew up with Bowmore released in the 1990s: the newer 12yo and then Dawn, Dusk, Claret… all of which kept me from trying Bowmore for years.
A lot of different versions exist. Originals, versions bottled for Italy (especially Soffiantino) and France, with a cork or a plastic head, labels that said 'Over 12 Years' first and then 'Aged 12 Years', and obviously different ABV statements (70°, 40% vol., then 43% vol. or 43° GL…). Check Hans' Bowmore Archive.
It's nearly impossible to get exact bottling dates for all of these versions, but I'm quite sure I'll be tasting my bottles from old to young.
Bowmore De Luxe (70° proof, OB late 1970s, 75,7cl / 26 2/3 fl.ozs.)
Nose: easy to see similarities with the excellent Bowmore 1993 expressions, or with the recent peated Irish 1991's. A sweet, tropical fruitiness (pink grapefruit, passion fruits, tangerines, overripe Cavaillon) as well as a rather bold peatiness (more so than in the 1960s vintages). Some lime and menthol. Very aromatic and a wonderful combo.

Mouth: more on fruit candy now (oranges, peaches, lime), slightly less tropical. Also brown sugar, a little latte and milk chocolate. Very gentle peat by the way, and light herbal notes.

Finish: not too long, malty sweet, clean, with subtle spicy oak.
Lovely tropical nose, taking us directly into the 90 points category. The palate is more mundane and relatively simple, here it looses a few points. Nonetheless it's light years ahead of the 1980s distillation.
Score: 90/100
Bowmore 'Aged 12 Years' (40%, OB late 1970s, 75 cl, cork)
Nose: totally different. More of a nutty profile, with some organic, sulphury hints. You can feel there's some fruitiness underneath, including the lovely tropical edge but it gets overshadowed, even after breathing. Hardly any peat, more like herbal, medicinal notes. Some milk chocolate and toffee as well.

Mouth: similar to the De Luxe, with seemingly more (good) caramel notes, chocolate corn flakes and hints of hazelnuts and almonds. Mocha. Light herbal oak.

Finish: medium long, the caramel sweetness disappears and leaves the herbal oaky notes.
I'm quite sure this whisky is less impressive than the De Luxe, but it could also be a case of inferior conservation. Similar to the one below but that one is fresher.
Score: 83/100
Bowmore 'Aged 12 Years' (43% vol., OB early 1980s, 75cl, plastic cap)
Nose: no dirty notes like in the other 12yo, but only faint traces of the tropical fruits of the De Luxe. More caramel and toffee right away. More minty notes too, with a bit more peat as well. Fresh citrus (lemon, lime) making this a bright, attractive nose. Good whisky.

Mouth: slightly fresher than the other 12, again with more citrus flavours. Lemons, oranges, perhaps a grassy / floral note (but nothing like the FWP). Some passion fruits perhaps. The brightness of the citrus is underlined with some mint and fresh herbs.

Finish: slightly longer, still superbly clean and fresh.
Very good Bowmore again, even though the tropical notes are far less noticeable on the nose. The citrusy character on the palate is excellent though.
Score: 89/100
As often with these old standard bottlings, there is quite some batch variation. With so many batches available, I don't think anyone has ever done a wide-scale comparative tasting that highlights the best batches, so it's a bit of a hit-and-miss game. The best ones are absolutely adorable though, that's for sure.
If you have some tips and tricks to indicate the best batches, feel free to add them in the comments.