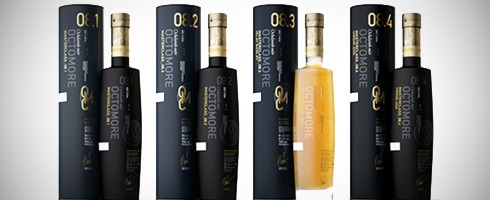 The autumn of 2010 was wet and windy. A late harvest saw Octomore farmer James Brown facing heavy losses from greylag geese and herds of wild red deer, resulting in a precious little yield. Malting the this Octomore grain produced results that were unprecedented, the readings came back at 309.1ppm.
That makes this Octomore 08.3 the peatiest Octomore ever, and the peatiest whisky ever at a staggering 309 ppm. The spirit was matured in 56% first-fill bourbon casks, the remaining in ex-Paulliac, Ventoux, Rhone and Burgundy wine casks.
It is part of the Octomore Eights Masterclass series. It contains 3 eight year-old Octomores from different types of casks but this one is just 5 years old, yet the most expensive of the bunch.
Octomore 'Masterclass 08.3' 5yo 2011 (61,2%, OB 2017, 18.000 btl.)
Nose: nice, it is definitely peaty but also very sweet, balancing the deep smoke with rounder toffee notes, vanilla syrup and hints of honeyed pancakes with cinnamon. Then some coastal notes and limestone. Some medicinal hints. Burnt heather. Tar. Back to peach sweetness.

Mouth: the amount of peat is indeed rather stunning. Initially still some peaches, but it quickly becomes sharp and slightly bitter. The peppery and gingery notes make it even more challenging. It dries your mouth and numbs your taste buds. I was able to get some blackcurrants, scorched earth, leafy notes, toasted wood and metal polish. Overall quite simply though.

Finish: long, spicy, with burnt caramel, coffee roast and tobacco leaves.
Surprisingly sweet on the nose, but rather fierce on the palate. Somehow balanced, but I'm not too fond of the drying mouth feel. Sold out in most places. Sold out but you can still find other 08 versions.
Score: 87/100