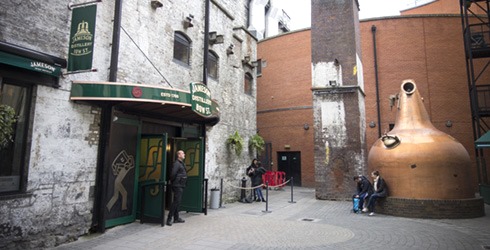 Jameson Bow St reopened
Last week I was invited to visit the reopened Jameson Distillery Bow St. in Dublin. It was closed in August 2016 to undergo an € 11 million redevelopment and reopened about a month ago. The whole project was supervised by a special 'experience design' agency which set up new, more immersive experiences within the historical building.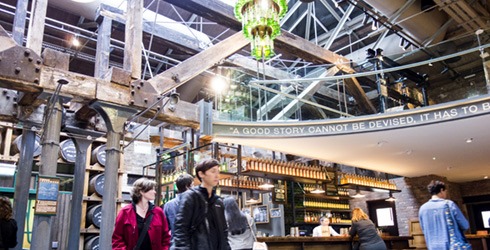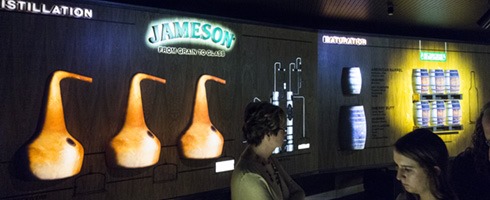 Basic tour: Jameson Bow St Experience
The basic tour is called Bow St. Experience. It is a guided tour with three major topics, each covered in one room: the 230-year history of the Jameson brand, the production process of Jameson whiskey and a comparative whiskey tasting.
Like most commercial distillery tours, there's a high tempo so they can only covers the basics. That said, this is easily the most beautiful presentation of the whiskey production process I've ever seen, with a combination of 3D elements on a wall and projected animations. It's all about storytelling and it's done in an engaging way, aided by modern technology.
The comparative tasting at the end lets you try a Scotch (Johnnie Walker Black label), a bourbon (Jack Daniels) and the standard Jameson blend, stressing the fact that Jameson is the smoothest and that Scotch is smoky – confirming what is probably the biggest 'alternative fact' of the whisky industry. Personally I would have offered more Jameson expressions instead of going for a comparative tasting. This 40 minute tour is aimed at beginners and costs € 18.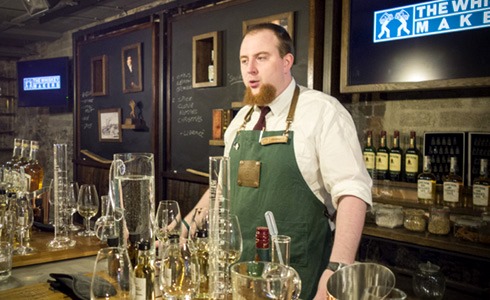 Jameson Whiskey Makers Experience
Much better, in my opinion, is The Whiskey Makers experience, a 90 minute masterclass in blending that is loosely based on the Jameson Academy. It starts with a tasting of the standard Jameson blend and the Jameson Whiskey Makers series that was launched last year. Distiller's Safe, Cooper's Croze and Blender's Dog highlight three different facets of Jameson whiskey that are normally blended together and can now be appreciated separately. The whiskey is well paired to a sherbet and a piece of chocolate.
For the second part of this experience, you get 5cl bottles from three single casks: a 6yo pot still (B1 cask), an 8yo pot still (S1 cask) and a 4yo grain whiskey (B2 cask). You're invited to make your own Jameson Bow St. blend and take it home in a 5cl flask. A nice activity with good, in-depth information. Jameson's friendly head distiller Brian Nation sat right beside me during this event, but I'm afraid couldn't decipher his 'official' blending recipe…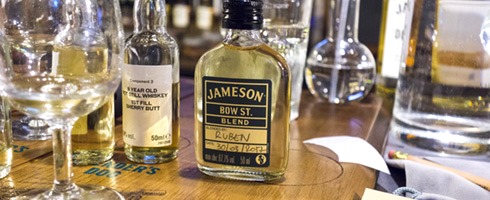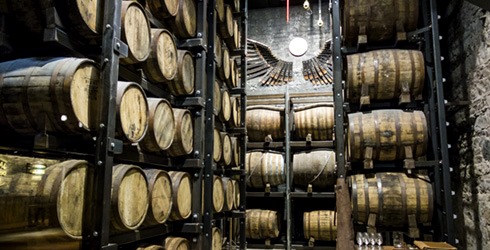 Jameson Bow St warehouse
Afterwards there is a small warehouse visit – Jameson insisted on setting up a maturation warehouse of 50m² or so. Getting permission to store highly flammable spirit within a residential area is not easy, but they succeeded, even though this means you'll have to switch off any electronic devices. Once inside you're presented with a pot still whiskey straight from the cask (11 years old if I remember correctly). It was beautifully fruity and intense – easily the best dram I had that day.
We also had a sneak peak at the John Jameson office, a remake of the founder's workplace at the distillery. It's not part of the public tour and it's not clear what they'll do with it, but it's a very atmospheric place with a nice display of historic Jameson bottles.
The Whiskey Makers Experience also includes a quick overview of the Jameson production methods, so if you have the slightest knowledge of whisky in general I would certainly recommend paying € 55 for this and skipping the standard tour altogether. Not the least because you get to try eight different Jameson whiskeys, four of which are cask samples. Kudos to Christopher who guided us in a very entertaining way!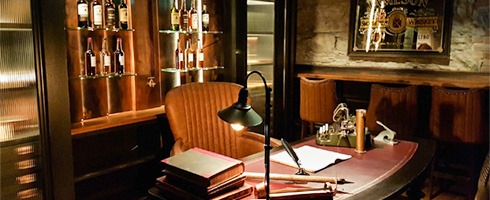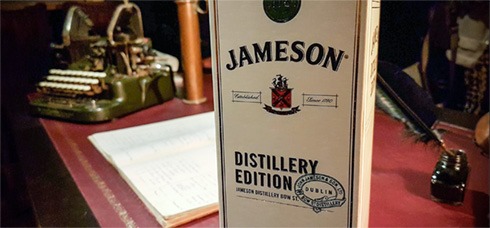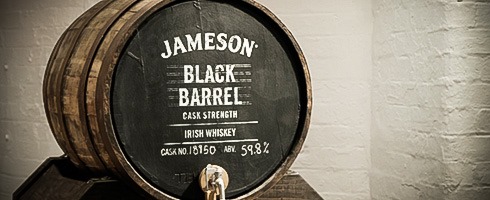 Jameson distillery shop exclusives
There's a third Whiskey Shakers experience, focusing on Jameson cocktails, which you can make with the help of a Jameson bartender. I didn't participate but I heard it was very good as well. This also includes a visit to the maturation warehouse and the price is the same (€ 55).
Bow Street distillery also offers a nice shop which sells nearly all expressions of whiskey from the Irish Distillers group, including the new personalised Jameson Distillery Edition that cannot be found anywhere else (NAS, replacing the old version which was 12 years old) and a Black Barrel Cask Strength that you can bottle straight from the cask.
Irish whiskey tourism is expected to triple in the next eight years, and the rebooted Jameson Bow St. certainly has all the assets to play a central role in this vision. It may well be the most innovative, engaging distillery visit I had so far, provided you don't mind not witnessing a working distillery process.