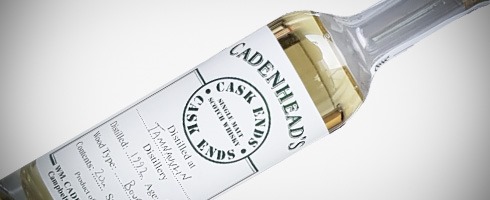 I love the Cask Ends concept of Cadenhead's. You get some 'leftover bottles' (either 20 cl or 70 cl) from casks that were released in an official form earlier. Especially the 20 cl bottle is an idea that more bottlers should adopt.
I got this Tamnavulin 1992 as a nice birthday gift the other day, hooray! The picture below is of the original bottling of course. It's one of the least featured distilleries on this blog… It didn't really exist as a single malt until the Tamnavulin Double Cask was launched last year (I'll review that one soon).
Tamnavulin 25 yo 1992 (52,9%, Cadenhead's Authentic Collection 2017, bourbon hogshead, 216 btl.)
Nose: rather neutral, some honeyed cereals, Earl Grey tea, old roses, hints of apple pie with a little vanilla. Yellow raisins and whiffs of mint.

Mouth: citrus notes (grapefruit and lemon) and plenty of herbal notes. Aniseed and pepper. Dry grassy notes too. Still fairly close to the raw barley. A touch of fennel. Gets rather buttery after a while, with hints of cake dough. A bit of plain oak.

Finish: medium long, fairly dry, almost like having flour in your mouth. Walnut skins, ginger and grassy notes.
Always interesting to sharpen your ideas about a distillery that's rarely seen. Around € 100 for the full bottle. Thank you, Lieve!
Score: 83/100