Highland Park rebranding
Highland Park will be presenting a reworked branding and new bottle design on April 28th. In the last couple of weeks, a few clues have showed up. First of all the new logo, which has the distillery name in a new font.

This new logo was also seen on several approved labels in the TTB Colas database. From those we can conclude that most expressions will get a nickname besides their age statement, to stress the Viking bloodline of the distillery:
Highland Park 10 Year Old Viking Scars
Highland Park 12 Year Old Viking Honour
Highland Park 18 Year Old Viking Pride
Also the 18 Year Old will include a Batch number and rotation clearly mentioned on the back label. Both are still bottled at 43% ABV.
The new logo was also seen on the Highland Park Rebus30 10 Year Old that was presented this week. This makes me think there won't be an entirely new bottle design, just a slightly reworked version of the oval bottle with new labels? Of course this is just speculation and I could be totally wrong, but it could look like the picture below, and I certainly wouldn't be against this kind of styling. What do you think?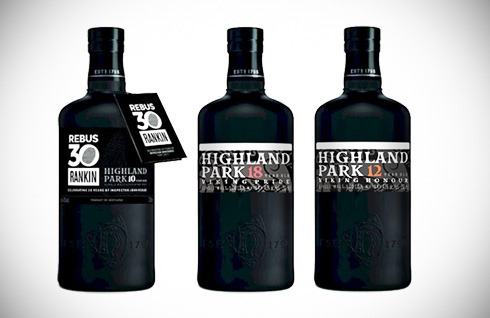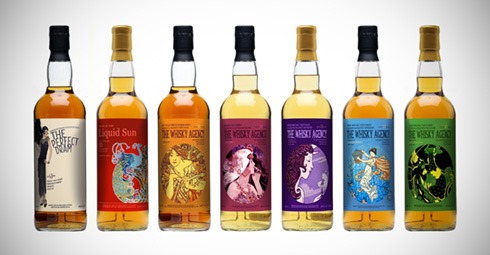 The Whisky Agency 'Art Nouveau Ladies'
As I said earlier, The Whisky Agency is preparing its new releases for the upcoming Whisky Fair in Limburg. Here are some more details on what you can expect at the festival (left to right in the picture):
Teaninich 43 yo 1973 (48,8%, Perfect Dram 2017, ex-sherry butt)
Ireland single malt XO (50,3%, Liquid Sun, barrel, 90 btl.)
Tennessee bourbon 13 yo 2003 (52,6%, TWA 2017, barrel)
Ireland single malt 27 yo 1990 (48,1%, TWA 2017, barrel)
Glen Keith 23 yo 1993 (48,6%, TWA 2016, hogshead)
Cragganmore 27 yo 1989 (52,1%, TWA & LMdW 2016, hogshead)
Speyside Region 43 yo 1973 (46,9%, TWA 2017, sherry butt)
Rock Oyster Sherry Edition
Douglas Laing is shortly releasing Rock Oyster Sherry Edition, a blend of Island whisky (or 'whiskey' as they say on the US label…?) from distilleries on Orkney, Islay, Arran and Jura, with a sherried warmth at its core. Bottled at 46.8%.