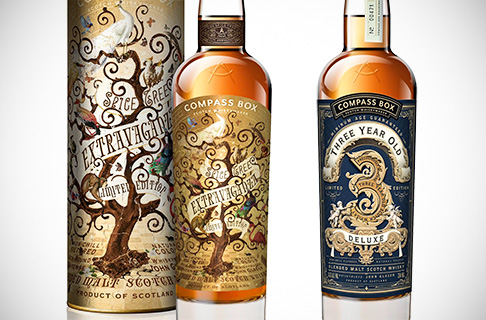 Compass Box Spice Tree Extravanganza is a special edition which celebrates the tenth anniversary of the original blended malt The Spice Tree (which was banned by the SWA for using oak staves inside the cask). It is a reinterpretation, made with older components and a significant portion of sherry-cask aged malt whisky. Compass Box says it's richer and more elegant. Bottled at 46% and 12.240 bottles available (1st of October) for around € 130.
Also planned for this autumn is Compass Box 3 Year Old Deluxe, a very funny and mischievous blended malt whisky that is said to be surprisingly mature... It contains just 0,4% of three years old Clynelish, a little over 90% of older Clynelish of an unstated age, and 9% peaty malt whisky from Talisker. Regulations permit them to only share the details of the youngest component (even when there's only a few drops of 3 yo spirit inside) so this may well be the oldest, most expensive 3 year-old on the market? Yet again Compass Box is mocking whisky regulations, in a way we can only applaud… Available 1st of October for around € 230.
As expected, Highland Park will soon release its Fire Edition, which is the follow-up for Highland Park Ice Edition. Not sure what the bottle will actually look like, we only have the TTB database submission.
It all looks very similar to Ice, so maybe it will be the same bottle with an orange-red colour gradient this time? In any case it is 15 years old and bottled at 45,2%. There will be 28.000 bottles.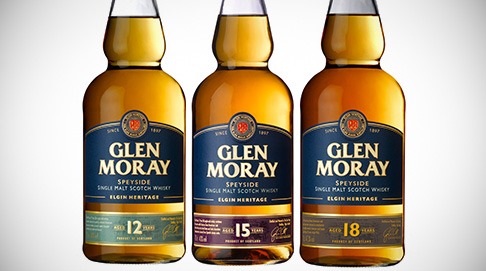 Glen Moray has released the Elgin Heritage Collection, a new name for its core range which contains a 12 Year Old (ex-bourbon), 15 Year Old (ex-bourbon + ex-sherry, replacing the old 16 year old) and 18 Year Old (ex-bourbon) expression. It seems to be a (subtle) rebranding as well as a restructuring of their range.